Top Ten Throwback Songs You Need to Add to Your Playlist before 2020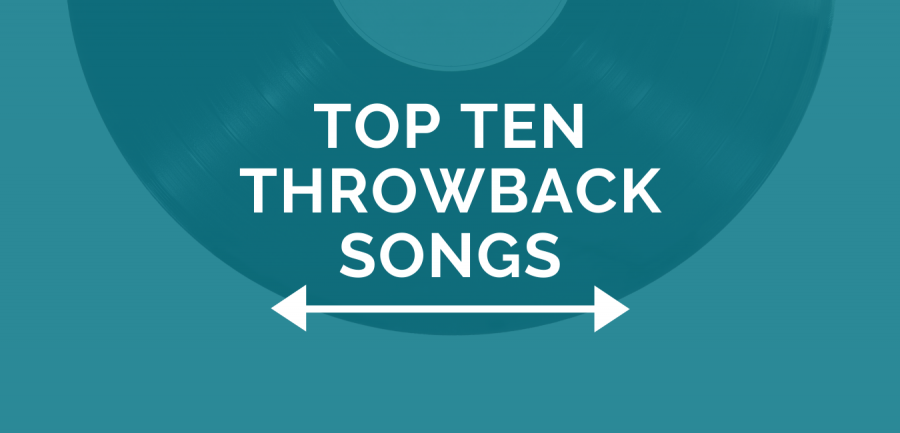 Jillian Geib, Community Editor
December 12, 2019
In a world full of synthetic pop and vulgar rap music, throwing a couple of classic throwback songs into your Spotify queue can be rather refreshing. But what exactly does a "throwback song" mean? Considering that the current high school student was born sometime between 2001 and  2005, this list includes what I consider to be some of the best songs to hit the charts between the years 2004 and 2012. 
Party in the USA – Miley Cyrus
Party in the USA by Miley Cyrus is on this list? Who would have guessed? If you are ever searching for a catchy song that everyone will recognize, this is probably a safe bet. Despite its infectious tune and widespread notability, though, this song definitely has a tendency to be overplayed
Tonight, Tonight – Hot Chelle Rae
As far as iconic throwback songs go, this one is, without a doubt, the most underrated and unmentioned of the bunch. To be fair, Hot Chelle Rae's time in the spotlight was short-lived, as the band went on an artistic hiatus following the release of their 2014 album, "Recklessly". However, when the band dominated 2011 with their hit single, "Tonight, Tonight", no one could get enough of the song's message to just leave your worries behind and have a good time. 
TiK ToK – Ke$ha
Raise your hand if you also went through a hardcore Ke$ha phase when you were in second grade! Admittedly, this probably was not the most appropriate song for an eight-year-old girl to blast from her iPod Nano, but the memorable lyrics and infectious rhythm of Ke$ha's debut single were all-too irresistible.  
Starships – Nicki Minaj
Before marrying Kenneth Petty and quitting the music industry, female rap sensation Niki Manaj conquered 2012 with her hit song, Starships. Although this song has received too much attention to be considered "underrated", I still believe that 2014's Anaconda has a tendency to overshadow it when people think of Manaj's creations from the early 2010's. And while Starships may never had climbed as high on the Billboard Hot 100 as Anaconda, the song  deserves some cookie points for gaining a notable amount of popularity without being excessively raunchy. 
Lazy Song – Bruno Mars
Whether you are loafing around your house like the song promotes, or you find yourself with the unfortunate obligation to be productive, just wishing that you could put on your Snuggie and watch MTV all day, Bruno Mars's Lazy Song is always a hit. Considering the fact that it stayed on the US Billboard Hot 100 for 27 consecutive weeks following its 2011 release, I think it is safe to say that everyone loves a good song to validate their laziness.     
Pocket Full of Sunshine – Natasha Bedingfield 
If I were to be completely and utterly bias here, this song would take the top spot. Natasha Bedingfield's Pocket Full of Sunshine is a song that I can explicitly remember jamming to on the car radio when I was probably in Kindergarten. That being said, I realize that most people probably do not attach the same heart-warming nostalgia to this song as I do, so I will bump it down to the middle of the road.
Dynamite – Taio Cruz
When I think of the early 2010s, Taio Cruz's Dynamite is easily one of the first things that comes to mind. Considering the fact that British R&B artist Taio Cruz was able to win Top Hot 100 Song, Top Digital Song and Top Pop Song at the 2011 Billboard Music Awards with this song alone, it is no wonder why.
Replay – Iyaz
The title says it all. When I'm in the throwback mood, this is a tune that I could easily replay a time or twenty. With its electric instrumentation and memorable lyrics, the title track topped the pop charts and become a poster child for late 2000s pop. I have to say, out of all the songs on this list, this one reminds me the most of a simpler time. 
Since U Been Gone – Kelly Clarkson
Name a more iconic karaoke song. I will wait. Seriously, I am failing to think of a better song to belt at the top of your lungs while home alone. Furthermore, I think that Clarkson deserves more credit for inspiring other women to view the end of their inadequate romantic relationships as a relief, rather than a terrible tragedy.   
Year 3000 – Jonas Brothers
With this band of brothers making their highly-anticipated comeback, I had to put this classic at the number one spot. The upbeat, carefree vibe throughout the song's entirety represents the vivacity of the early 21st century to a tea, and by continuing to be a fan favorite, has truly stood the test of time. Also, huge props to the Jonas Brothers for making the term "flux capacitor" work so flawlessly in the lyrics.