UCLA Medical Center employee shares inside perspective on COVID-19 pandemic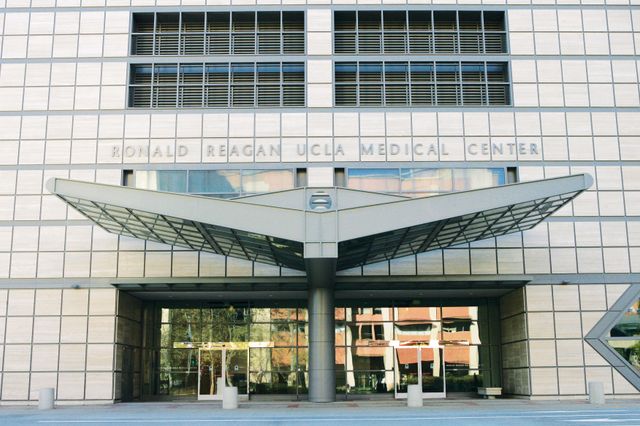 Jillian Geib, Community Editor
April 28, 2020
Within a matter of weeks, the world experienced the jarring transition from everyday life to the complicated reality of enduring a global pandemic. For the average person, this period of confusion and isolation entails mindlessly lulling around the house, looking for ways to ease their boredom. Contrarily, employees at hospitals and urgent care facilities have wasted no time learning to manage the novel coronavirus and its effects on their already unpredictable routines. My cousin Elizabeth Kaufmann, an emergency room technician at the University of California Los Angeles (UCLA) Medical Center in Santa Monica, Calif., understands first-hand the drastic measures medical professionals must take when dealing with COVID-19.
"Before the outbreak, we had patients in hallway beds as well as rooms, and there were a lot more health care professionals interacting with each patient," Kaufmann said. "Now, we are mainly placing patients into individual rooms, and although we still work as a team and help each other out, there are a lot less staff members interacting with each patient in order to limit exposure."
Decreasing human contact and increasing personal protective equipment (PPE) are key to containing the number of people contracting COVID-19. Therefore, essential hospital staff are not the only ones being barred from interacting with patients unless absolutely necessary. Medical residents, visitors and even some employees have also experienced limitations due to the virus.
"One of the biggest changes is that there are no longer visitors allowed in the hospital unless the patient is a minor or has a power of attorney to make their medical decisions," Kaufmann said. "Another big change, especially because I work at a teaching hospital, is that we have cut down on elective procedures, which means a lot of residents and staff members are no longer needed in the hospital." 
These adjustments, paired with a considerable decline in minor injuries following California's stay at home order, have helped reduce unnecessary congestion in the emergency room and minimize the opportunities to spread the virus. However, the real challenge lies with assisting those who may already have COVID-19. 
At UCLA, patients must first pass through a tent set up in the hospital's ambulance bay. Here, a staff member gathers their personal information, including their reason for seeking medical attention. If an individual is complaining of common coronavirus symptoms (ex. coughing, shortness of breath, fever, etc.), they were kept in the tent to be triaged and examined. While this system may  seem secure by itself, the possibility of patients presenting abnormal symptoms, or none at all, have led the hospital to be even more cautious.
So what does this extra caution entail? For people needing admission into the hospital, this means that they must undergo testing for COVID-19 regardless of their chief medical complication
"Many of our patients that originally were not COVID rule-outs are now being tested since we are seeing a wider range of symptoms," Kaufmann said. "Now, any patient being admitted will be tested before heading upstairs so that nurses are not accidentally exposed to a positive patient who is asymptomatic or has atypical symptoms. Because of this, we treat most patients as if they have COVID until their test comes back negative. Where I work, we are fortunate to have in-house testing, so results are coming back within three to four hours."
Throughout the pandemic, big-name, urban hospitals like UCLA have continued to function pretty efficiently. Though they typically treat more severe cases of COVID-19 than a local urgent care facility, their abundant resources and top-notch cleaning staff help balance out the load. According to Kaufmann, research teams at UCLA have also contributed to the hospital's self-sufficiency. 
"We are a research institution, so we have utilized our researchers to do studies that have allowed us to roll out a program where we can reuse our N95 masks safely after they are sterilized with UV light," Kaufmann said. "I have been told this sterilization can be used up to five times on a mask and it will still have the same effectiveness and maintain structural integrity. In addition, students at the school of engineering have used 3D printers and other construction materials to make us reusable face shields."
On top of that, UCLA, like countless other hospitals across the country, has been flooded with donations from its community members. Not only do these acts of generosity help supply the hospital with sanitary gear, they have also allowed medical staff to continue protecting others outside of the workplace.
"Something that has boosted our morale is that in the Emergency Department, we are being sent food from local businesses," Kaufmann said. "This has been a really great pick-me-up during all of this. Especially because a lot of us do not want to go to the grocery store, not for fear of being exposed, but for fear that we ourselves are carriers of COVID."