Who was Alex Trebek?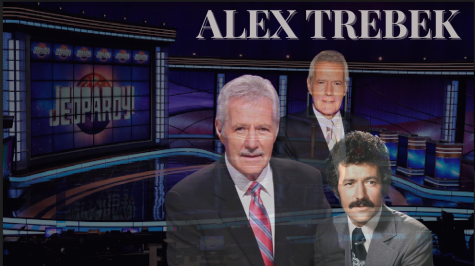 Beloved host, well-known activist and philanthropist Alex Trebek passed away on Nov. 8 from his battle with stage four pancreatic cancer. Trebek was the host of the famous game show "Jeopardy!"  For a record breaking 37 years. Throughout his time as the host, Trebek gained a loyal and caring fan base that supported him in his career and personal life. As his final episodes air on ABC, fans and followers look back and reflect on the impressive life Trebek led. 
George Alexander Trebek was born on Jul. 22, 1940 in Ontario, Canada and graduated from the University of Ottawa with a degree in philosophy which he later applied to his work in activism and philanthropy. He began his work in television with the Canadian Broadcasting Corporation (CBC) in 1961. At CBC Trebek did all kinds of jobs including radio shows, broadcasting and hosting special events before moving to the U.S. in 1973 after landing a job at NBC hosting "The Wizard of Odds" along with several other hosting positions. 
In 1984, Trebek landed his most famous job as the host of "Jeopardy!", a trivia game show where players compete for money. Trebek grabbed the attention of viewers across the world with his delivery and charisma on screen, while fascinating fans with his love of knowledge and dedication to informing the public off screen. After his rise to fame, Trebek made many appearances on television shows including "Baywatch", "The Simpsons" and "Cheers". 
Throughout Trebek's career, he received multiple awards for not only his entertainment career, but for his activism and philanthropy. Treble was an avid supporter and donor to causes that worked towards building homeless shelters in America as well as being a conservationist and working to protect endangered species. Trebek won a number of Emmy awards along with the Lifetime Achievement Award by the National Academy of Television Arts and Sciences in 2011. Among these achievements, Trebek holds the Guiness World Record for most game show episodes hosted by the same host. 
On March 6, 2019, Trebek announced that he had Stage IV Pancreatic Cancer after having health issues including two mild heart attacks. Fans filled his social media with positive messages and love and one "Jeopardy!" contestant in Nov. of 2019 wagered $1995 of his final jeopardy winnings to write "We love you Alex," which caused Trebek to get emotional. Trebek gave positive health updates and published his memoir before passing away at his home in Los Angeles, California with family and friends. Trebek was a family tradition and staple in American homes for generations and will be missed dearly.