The State of Biden's Cabinet
Following his election victory over President Donald Trump, President-elect Joe Biden's cabinet is starting to take shape. While the president has the final say on many decisions, his cabinet is responsible for advising the president on major issues, solidifying its importance in the executive branch. Biden has begun to name nominees, with his first being Vice President-elect Kamala Harris, and he will continue to do so in the upcoming weeks.
So far, Biden has nominated his Secretaries of State, Homeland Security, Treasury, Health and Human Services (HHS), Defense, Housing and Urban Development (HUD), Agriculture, Veterans Affairs, Transportation and Energy.
For State, Biden nominated Antony Blinken, who served as Deputy Secretary of State in the Obama administration, among other governmental positions. In his new job, he will be tasked with informing Biden on foreign policy matters.
Alejandro Mayorkas, the nominee for Homeland Security, served as Deputy Secretary of the Department of Homeland Security under Barack Obama, and he will aid Biden in domestic security issues.
Biden also named Janet Yellen, the first woman to lead the Federal Reserve, to Secretary of Treasury, where she will oversee the economy.
As for HHS, Biden chose Xavier Becerra, the Attorney General of California. Becerra's job will be especially important as the government begins to distribute the COVID-19 vaccination.
For Defense, Biden chose retired General Lloyd to head the Pentagon.
The HUD nominee is Marcia Fudge, an Ohio Representative and member of the House Agriculture Committee, who will address the nation's housing and community issues.
Tom Vilsack, the Agriculture nominee, is a former governor of Iowa, and he served as Secretary of Agriculture in the Obama administration. In his new post, he will focus on farmers' needs as well as people without enough food.
For Veterans Affairs, Biden chose Denis McDonough, Obama's former chief of staff. McDonough will oversee support of veterans, including health care, education, loans and more.
As for Transportation, Biden tapped Pete Buttigieg, the former mayor of South Bend, Indiana and Democratic nominee for president. He will be tasked with leading regulation for all of the nation's modes of transportation.
The nominee for Energy is Jennifer Granholm, the former Michigan governor who will be responsible for ensuring clean and sustainable energy choices as part of Biden's plan to combat climate change.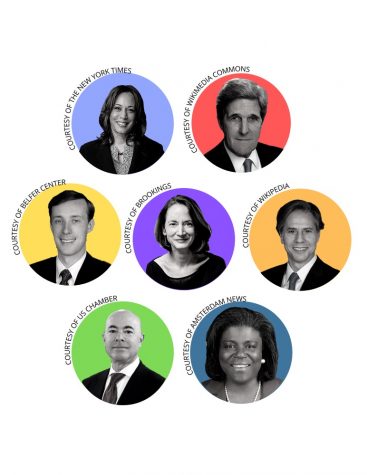 Each of these nominees requires approval from the Senate, whose balance rests on the Georgia runoff elections. A continued Republican majority could make pushing these nominations through difficult.
In addition to the Senate, Biden is hoping for approval from the Black voters who helped lead him to election victory and want him to include women and people of color in positions of power. He has so far followed through with this wish with some of his non-cabinet positions, such as his transition team, which is 52% women and 46% people of color, according to data given to CNN by the Biden transition team. He is under pressure to do so with his cabinet as well, and some of his early selections have already broken barriers. If confirmed, Mayorkas will be the first Latino and immigrant to head the Department of Homeland Security, Yellen will be the first woman to oversee the Treasury, Becerra will be the first Latino Secretary of Health and Human Services, Austin will be the first Black person to lead the Pentagon and Buttigieg will be the first openly gay person person in any cabinet position.
As for the other cabinet spots, Biden has yet to name his Secretaries of Commerce, Education, Interior and Labor, as well as Attorney General, who leads the Department of Justice. Some major names on Biden's radar are Merrick Garland or Senator Doug Jones for Attorney General and Andrew Yang for Commerce, among many others. Although these nominations are still up in the air, Biden is expected to continue choosing a diverse cabinet, both in terms of race and political views.
Aside from these 15 department secretaries, the president also has the power to add other members and positions to his cabinet. He has done this with John Kerry, the Special Presidential Envoy for Climate, Linda Thomas-Greenfield, the United Nations Ambassador, and Jake Sullivan, the National Security Advisor.
No matter who rounds out Biden's cabinet, they will play a major role in shaping the policies of the incoming administration.