Remembering Mr. Romeo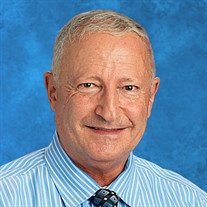 Impact — with its six-letter brevity, the word appears remarkably uncomplicated, but as a concept, it is one of the most important aspects of one's legacy. Throughout his 26 years as a physics teacher, Martin Romeo left his mark on every student and staff member fortunate enough to meet him, making his unexpected passing on Feb.19, 2021 both incredibly shocking and painfully heartbreaking. 
"Mr. Romeo never failed to make me feel heard and acknowledged each and every class period," Kendall Castellaw ('21) said. "He would take the time to sit down with me whenever I was confused on a concept in physics and valued all my questions and concerns."
Though Mr. Romeo's career as an educator will be infinitely celebrated within the Madison community, his mathematical and scientific aptitude far preceded his time in the classroom. By the end of his collegiate studies, Romeo had earned a Bachelors of Science in Electrical Engineering from the prestigious Massachusetts Institute of Technology (MIT), as well as a Masters of Science and Engineer's Degree from the Navy Postgraduate School. He then went on to spend the next 21 years serving in the United States Navy as an Engineering Duty Officer, receiving both the Defense Meritorious Service Medal (1982) and the Navy Meritorious Service Medal (1987 and 1994). And while over two decades of working on computer systems, satellites and various other pieces of military equipment  would be enough for most people, Mr. Romeo's passion for physics motivated him to attend a teaching program at George Washington University upon his retirement.  
"Mr. Romeo was a brilliant man; however, he was patient with everyone, regardless of their level of understanding of physics, science, or virtually any topic," former AP Environmental Science teacher Richard Gongaware said. "We all had such enormous respect for his prior life in the Navy and in his dedication to teaching." 
But "dedicated" and "respectable" only tell part of the story. Perhaps the most memorable of Mr. Romeo's attributes was the uplifting, enthusiastic spirit he presented on a daily basis. Even those without personal acquaintanceship to Romeo can recall his yearly performances in the Homecoming pep rally and the songs he would belt through the halls each morning. Additionally, friends and coworkers of Mr. Romeo, such as Biology teacher Elizabeth Miner, speak to his unabating benevolence and selflessness.
"Mr. Romeo was the most giving member of our department," Miner said "No matter what he was in the middle of doing, if someone came to him for help, he would stop immediately and help. He was the foundation of the department and was someone we all turned to for answers. He was the true 'Mr. Madison,' red and black through and through. He had so much experience with all things JMHS and science that we all counted on his expertise for so many things, and I would be remiss if I did not say I will miss his singing. I have been his hall neighbor for years and I will miss Redskins songs, the Madison fight song and all the show tunes from the plays we have done."
In a year already riddled with grief and uncertainty, the loss of a beloved faculty member feels all the more surreal. However, if anything can be guaranteed in these challenging times, it is that Mr. Romeo's time in Warhawk nation will be treasured for years to come.
"I hope to be able to continue in his legacy by being generous and kind," Miner said " When I am busy and someone asks for help, I will stop and help. Nothing can be so important that we don't have time to help each other. And maybe…just maybe… I'll join a flash mob in his honor. And on a personal level —  I will remember him each time I open a fortune cookie, but that's a story for another time."