New wing opens at Madison
Madison High School's highly anticipated, newly renovated wing finally opened to students and staff at the beginning of this school year. It includes a fully refurbished third-story library, new classrooms, conference areas and an expansion to the cafeteria.
The new wing has been under construction since February 2021. With most of the construction completed at the start of the school year, students and teachers have finally been able to make use of the new areas and the amenities they have to offer.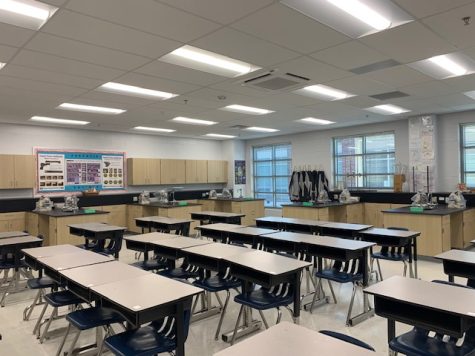 Scott Hazen, a chemistry teacher who teaches in one of the new classrooms expressed his excitement about the renovated space.
"I've always been a hands-on teacher so having designated lab areas is like, 'Yay! I can do more now!'" Hazen said. "This all suits me, so it's perfect for my style, and how I want to teach and how I want the kids to learn."
Students have enjoyed utilizing the school's new facilities, most notably the library. It has become a very popular spot for students to spend time before first period as well as during Warhawk Time.
"In the mornings, I always go to the library to talk to my friends," Jacob Diehl ('24) said.
Students that choose to visit the library during Warhawk Time are required to obtain a pass before their first period. This policy is a part of the school's efforts to increase security and keep track of students.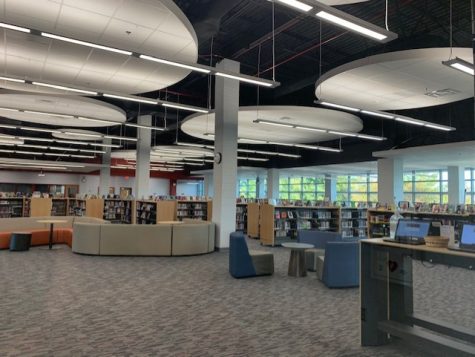 "We're still growing into the pass system as it looks now, but there have been similar pass/sign up policies forWarhawk Time for the last seven years," Madison Librarian Liz Liebman said. "The number one request we get from students is to have someplace quiet to get work done, and we really want to give students that. The library isn't silent during Warhawk Time, but it is a quiet, productive space."
Last school year, the library was temporarily moved to Warhawk Hall on the east side of the building due to construction. Relocation of the new library has been a pleasant change, according to Liebman.
"The new library is wonderful!" Liebman said. "It doesn't seem fair to compare it to Warhawk Hall, though Mrs. Pleasants and I made the most of the much smaller space for the time we were there. Even the previous library was a beautiful space with large windows, but the new one definitely feels sophisticated and modern."