Principal Hood leaves Madison
After seven years as Madison's principal, Greg Hood retired from his role on Sep.16 to accept the position of Management Support Director for high schools in Prince William County Schools (PWCS).
One week after the 2022-23 school year began, Hood announced his acceptance of his new position in a Schoology update sent to Madison students and staff on Aug. 31. The role was recently created in PWCS to manage high school principals in the county.
"Even though [the position] has some defined roles to it, it's something that still needs to be created and defined," Hood said. "My understanding and my goal around it is that I get to work with and support the other principals to help them do their job more effectively."
Hood has 11 years of experience as principal to bring to PWCS. He served four years as Thoreau Middle School's principal and seven at Madison. He helped introduce new programs such as Cross-Curricular, WINGS, Forensics, Entrepreneurship, African American History and Capstone/Research to students. Hood also oversaw the new renovations of Madison and worked to improve academic policy.
"We've done a lot of work as a staff that I've been a part of throughout my time here, just around assessment and grading practices, and how to change that," Hood said. "Preparing you for the world that you're going into, not the world we lived as adolescents."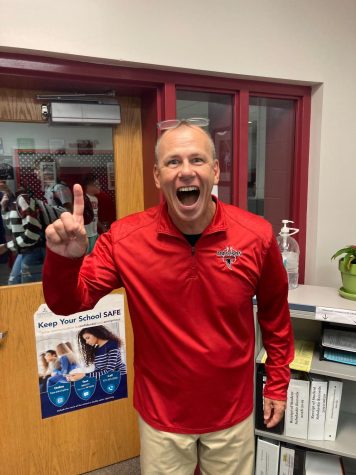 Now that Hood has moved on from Madison, the search for a new principal is underway. A panel interview of candidates will take place on Oct.6 from 8 a.m. to 4 p.m. The panel will consist of three staff representatives, three parent or community representatives and one Madison student representative. Written input regarding the characteristics the Madison community desires in a new principal were emailed to the Department of Human Resources by Sept. 26. Assistant Principal Steve Plunkett is serving as acting Principal till a replacement is found.
"Greg has been an outstanding principal and leader in FCPS, the Madison Pyramid, and at Madison High School," Assistant Superintendent Douglas Tyson said in an email to the community. "I have extended my best wishes to Greg and his family."
Hood's leadership dedication to the Vienna community for a decade, through the COVID-19 Pandemic, is appreciated by many. His legacy remains with the programs and people he impacted.
"I didn't want to leave Madison and become a principal anywhere else because I don't think there's a better place to be," Hood said. "I believe that wholeheartedly, and it's a bittersweet decision even though it is a great opportunity for me. I hope in the end, what I can say is that I left it a better place than I found it. I can say in the end, I feel like I've been successful."