Kase's Experience: Why the proposed defunding of Special Olympics is unacceptable
After coaching basketball for a second season, Editor-in-Chief Hannah Kase understands the unique importance of the Special Olympics.
This weekend, I finished my second season of coaching Special Olympics basketball. My team had a third place finish in the Marymount Special Olympics Basketball Tournament, enjoying a Sunday of playing hard, dancing and singing to music during game breaks and eating frozen yogurt together. Today, I woke up to sickening news.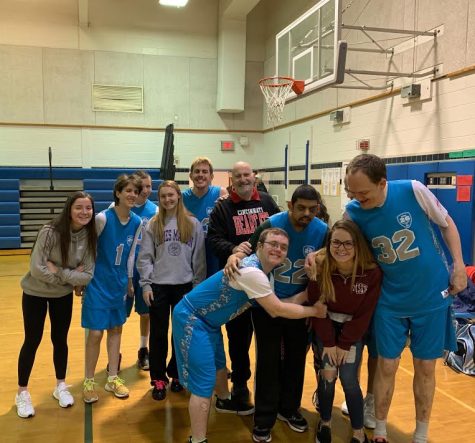 United States Education Secretary Betsy Devos defended the proposed education budget before a congressional subcommittee last night, and this plan includes a proposition to cut all of the federal government's funding to Special Olympics.
I attended my first Special Olympics event as a seventh grader, serving as a basketball timekeeper. After that day, I frequently volunteered at Special Olympics, whether it was refereeing soccer tournaments, assisting with tennis clinics or cheering at basketball games. Every time I volunteered, I left with a sense of happiness and gratitude unparalleled by any other experience. The sheer joy and positivity that exudes through Special Olympics athletes is truly remarkable. I loved that I had the opportunity to help facilitate their sports and that I was able to meet so many awesome people.
I quickly realized I wanted to contribute at a higher level, so the summer going into junior year, I looked into basketball coaching opportunities with my best friend. She and I became proud assistant coaches of the Turbocats basketball team, coaching alongside her dad and a couple other dedicated individuals.
There is no question that coaching this team was a highlight of high school for me. Saturday morning practices were the best start to every winter weekend for the past two years, and competing with a team in Special Olympics tournaments was full of excitement. The friendships I developed with the athletes on our team are so meaningful to me. A genuine sense of love and concern for others, along with a fervent passion for sports, is evident in each member of our team, and I have learned to appreciate my opportunities and experiences more thanks to the attitudes of these athletes.
Not only would Devos' proposed budget eliminate federal funding for Special Olympics, it would also reduce state grants for special education by 26 percent. Questioning from Wisconsin Democratic Rep. Mark Pocan about the effects of this plan on special needs youth revealed that Devos was completely unaware of the fact that it would impact 272,000 children.
It is simply appalling that the Secretary of Education feels this proposition is acceptable. Special Olympics provides a myriad of opportunities for individuals with intellectual and physical disabilities. The government should not feel comfortable ending the apportionment of money to a program whose mission is rooted in helping those with special needs.
Both of President Trump's previous budget proposals have increased spending to aid students with learning disabilities, and it is important to recognize this, but Special Olympics itself deserves support as well.
The greatest lesson I learned from coaching is that each Special Olympics athlete, given their varied physical and mental abilities, deserves individualized attention, consideration and care. This degree of commitment is necessary in the classroom, the community and in Congress, where success depends on policy creation and application. Education and public policy play essential roles in impacting the development of our youth, particularly those with disabilities. In the future, I aspire to help special needs youth as an advocate, educator and policy maker.