Veg Club Plans to Raise Awareness this School Year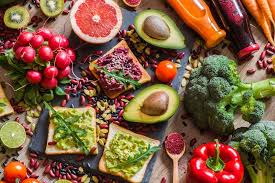 Living a plant based lifestyle, whether it be vegan, vegetarian, or pescatarian, has numerous benefits. Cutting meat out of your diet has been connected to lower blood pressure and cholesterol, and lower rates of heart disease. It is also environmentally beneficial, because the meat and dairy industries are some of today's highest contributors to greenhouse gases. By adopting a plant based lifestyle, you can learn more about nutrition, live a healthier lifestyle, and reduce your carbon footprint. 
Veg Club, Madisons vegan/vegetarian association was first introduced in the 2018-19 school year by two seniors, with the intention of creating a safe space for the plant based community. Current President of the Veg Club Ava Bagherian('20) carries on their legacy with her commitment to living and educating others about plant based lifestyles.  
The club emphasizes living a plant-based lifestyle to "the best of your abilities." Members say that It is understandable if you need meat products to stay healthy, no one should endanger their health to be vegan. "I want to make the vegan community a safe space," Bagherian said. 
Bagherian also hopes to work against the stereotypes about vegans. "There's a stigma that all vegans are organic hippies who say 'meat is murder' and force their beliefs on others," she said. Bagherian believes that many people frame vegans into a stereotype, but not all people with a vegan lifestyle fall into the category of rich and white. 
Initiatives of Veg Club include inner workings, such as presentations and vegan potlucks, as well as outreaches, ranging from volunteering at local animal shelters to unofficial environmental clean up projects. In addition, Veg Club has plans to join forces SEA Club, working together for a cleaner earth. "We are talking to local shelters and community organizations, we hope to raise awareness and make an impact," Bagherian said.