Deshaun Watson handed controversial suspension
Deshaun Watson, once a top five quarterback in the NFL, finds himself in a predicament as the 2022 season begins. Watson was traded to the Cleveland Browns in early 2022 from the Houston Texans following a poor relationship with Houston's front office and sexual assault allegations. Browns management gave up a king's ransom for Watson including three first round draft picks over the next three years, a third round pick, and two fourth round picks, while also paying Watson $177.5 million to keep him under contract through at least 2025.
Outside of football, Watson has been battling over two dozen sexual misconduct allegations which come from charges dating back to 2020. All charges are coming from personal massage therapists that Watson hired from fall 2019 to spring 2021. The victims allege that Watson had inappropriate requests and actions during the massages. On March 11, 2022, Watson was cleared by a Texas grand jury and is set to face no criminal charges regarding the allegations.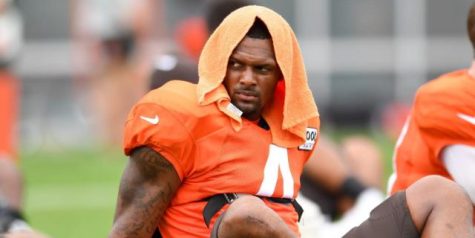 Once all the legal issues involving Watson were cleared, the Browns made the move to trade for the quarterback, knowing that he would likely be suspended for multiple games. Originally, Watson was given a six-game suspension by the NFL, which many felt was too soft. On Aug. 18, the NFL's appeal to the suspension was successful and Watson was suspended 11 games and received a $5 million dollar fine for his actions, leaving him out of action until Dec. 4. Watson hasn't played a regular season game since the 2020 season, creating skepticism voiced by fans and experts alike. Watson's abilities are also now coming into question since he has been out for such a long time. In Watson's one and only outing of the NFL's preseason, he was just 1/5 with 7 yards passing. Jaguars fans directed chants toward Watson as he took the field, showing the animosity towards the actions of the once fan-favorite quarterback. As well as NFL fans, Madison students have also expressed their discontent.
"He should have been banned from the league for life," Rithik Desai ('24) said. "Sexual assault is a serious matter, yet the NFL cares more about the brand than about women." 64% of Madison students believe Watson's suspension was not an appropriate length, with the majority supporting a longer ban.
Is this suspension fair? Similar to Watson, Atlanta Falcons wide receiver Calvin Ridley was suspended an entire season for betting on games while Watson was only suspended for 11 games. Many NFL fans are outraged by this, as they believe Watson deserved a full year suspension for his actions. Nevertheless, the suspension is final now, and Watson will play his first game since the 2020 season on Dec. 4, against the Texans, his former team.