A career in review: 12-time varsity athlete John Finney reflects on high school athletics
February 7, 2019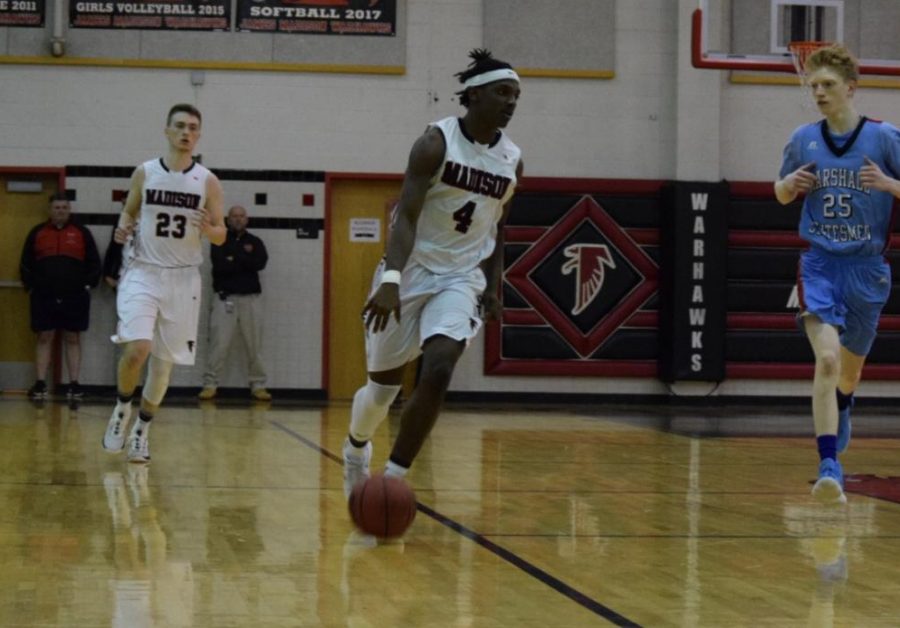 "Joo-ohn Finn-ney!" Clap, clap. Clap, clap, clap. "Joo-ohn Finn-ney!" Clap, clap. Clap, clap, clap. The crowd chants in excitement of the play. It does not matter whether it is a football game and Finney has just scored a touchdown, or if it is a basketball game and he has just made a three pointer. That's the legend of John Finney ('19), who has been engrained solidly into the folklore of Madison students from the moment he stepped onto the field as a freshman.
The days of Finney being a superstar freshman have long since passed, and his outstanding athletic performance has become the expectation, not the exception. Finney has been on the field and on the court for some of the most important Madison Football and Basketball games in school history. While it is true these accomplishments are team efforts, but since Finney has arrived, Madison Football has won 35 games, the most in any four-year stretch since at least 1999. Likewise, Madison Basketball won their first regional title in 2017.
"It seems like since the Class of 2019 came to Madison, sports just took off," Finney said. "I think this class brought a new drive. We stepped out on the field or the court, and we just did things differently."
The Beginnings
Since he was young, Finney has been a standout athlete. Finney began playing football at seven years old and basketball at nine. He once scored five touchdowns in a game at age eight and dropped 30 points in an Amateur Athletic Union (AAU) game in middle school. (AAU is considered one of the top youth basketball leagues in the country.) Because of his experience playing at a high level throughout his youth, Finney realized he could play varsity sports during his freshman year.
Which he eventually did, making Varsity Football, Varsity Basketball and Varsity Track and Field as a freshman.
"I wouldn't say that it was a surprise [to make varsity]," Finney said. "I wasn't coming in like as a cocky freshman thinking that I was definitely going to make varsity. Obviously, I had to work for it, but I made the team, and I was definitely happy, and my parents were proud of me, too."
The High School Experience
Finney has accomplished a lot over his four years, but, as he begins to reflect on his time at Madison, there was one game that stood out for him: the Varsity Basketball regional championship during his sophomore year in 2017. Madison defeated Woodson, 62-58, for the first regional title in school history.
"That was crazy," Finney said. "Nobody thought we were going to get there, so just for us to win that and come together as a family, it was crazy. The whole community was basically there, so that was definitely a huge moment that will be in my memory."
Throughout high school, Finney has dealt with the pressure of being a skilled Madison athlete. He's been expected to be the guy on the field or on the court. With that came a great deal of attention that he had to block out.
"Sometimes, I would get butterflies in my stomach before a game," Finney said. "I would definitely think that I gotta do this or that. You just have to realize that nobody is going to have a perfect game. There will be dropped passes, missed throws. I would just focus, get my mind ready and go do what I can."
The Future Plans
Finney realizes that his time at Madison is drawing to a close. And after twelve varsity letters, his time in Warhawk red and black will officially end next June.
Before then, however, Finney must decide where he will spend his next four years. He plans to sign his National Letter of Intent to play college football in February and has recently been in contact with Christopher Newport University, James Madison University and Duquesne University, among others.
Rumors have long surrounded Finney's college decision, with some even saying that he would end up at Michigan State University. (Finney did in fact receive a letter from Michigan State during his sophomore year.)
"It's been a long and tough process," Finney said. "Schools calling you early on in your high school career that might not talk to you now, like Michigan State. I got that letter when I was a sophomore and haven't heard from them since."
With that, Finney's biggest challenge during the recruiting process becomes apparent.
"I think I've been overlooked," Finney said. "I'm just being patient in the process, but that's definitely been the biggest struggle. Just maybe not [getting] as many offers as other guys."
He does offer some advice for other future recruits, however.
"Looking back, I could have been more vocal," Finney said. "I could have used myself instead of waiting on someone to come, or waiting on this letter to come in the mail. I think I definitely could have put myself out there. As in, I could have reached out to coaches, sent emails, sent film, do whatever I can to get these coaches' attention instead of waiting on them to come to me."
Finney hopes to study Cybersecurity or Computer Information Systems while in college, even if he is not afforded the opportunity to play football.
"I want to be successful and graduate and have that degree for my mom," Finney said. "I've been open with my process, and wherever I end up, I know that it will be home for me for the next four years."
The Reflection
Finney, while certainly a big part of the success that Madison sports have had in recent years, does not take sole credit for it, calling himself a "very humble guy." However, he does recognize all the success that the entire class brought to the athletic programs at this school.
"There must have been something about those 2000 and 2001 babies," Finney said. "We just brought our best to this school. It was just a great four years for us."