Madison's state finalists recognized by Vienna Town Council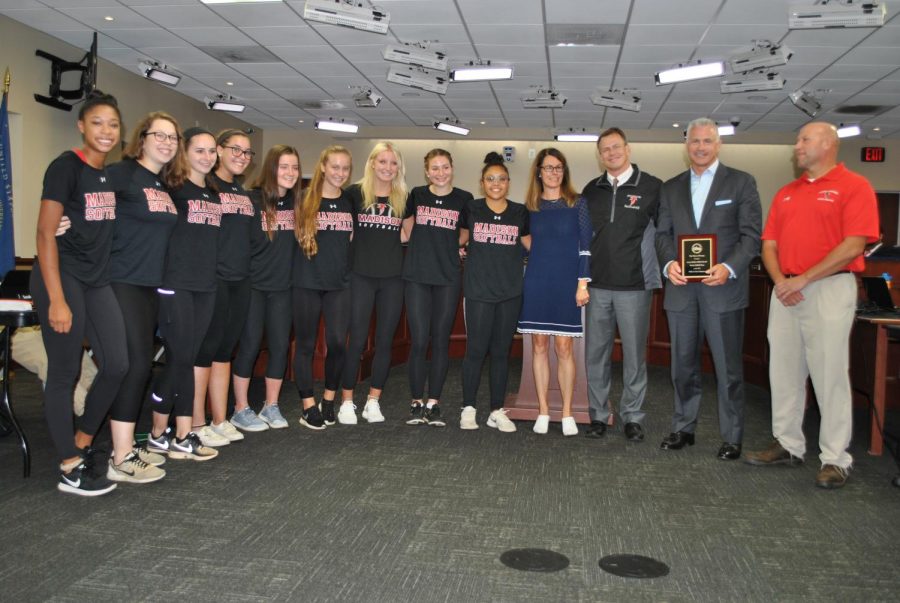 Devan Fink, Online Editor-in-Chief
September 18, 2018
The Vienna Town Council, led by Mayor Laurie DiRocco, recognized Madison's Virginia state finalists from the 2017-18 school year in a council meeting on Tuesday night. Madison Girls Softball (state champion), Girls Swim and Dive (state champion), Boys Swim and Dive (state runner-up) and Girls Soccer (state runner-up) were the four teams in attendance.
The Vienna Town Council began the tradition in 2015, commending Madison's state champions and runners-up each September.
"We wanted to honor the hard work and dedication involved to accomplish such a feat," DiRocco said. "The town appreciates how well they represent Vienna, not just with their winning prowess, which they all have, but with their sportsmanship, their respect and their commitment to the teams and individuals they compete against.
DiRocco called each of the teams to the podium, giving time for the head coaches to acknowledge each player and make a short statement about their season.
"We realize the sacrifices athletes make to work out, to practice for many hours per week and manage their time to not just succeed on the field or in the pool, but also in the classroom," DiRocco said.
Then, Principal Greg Hood spoke about his pride for Madison athletics, not just the state finalists.
"It's great to be able to celebrate the amount of time, effort and energy [our athletes] put into [their sports] to make Madison a better place," Hood said. "I'm biased, but I think Madison is the greatest school in the nation. Hopefully you're biased as well. It's great to be a part of this great place."