New restaurants pop up in Vienna
A variety of new restaurants are preparing to share delicious dishes with Vienna residents.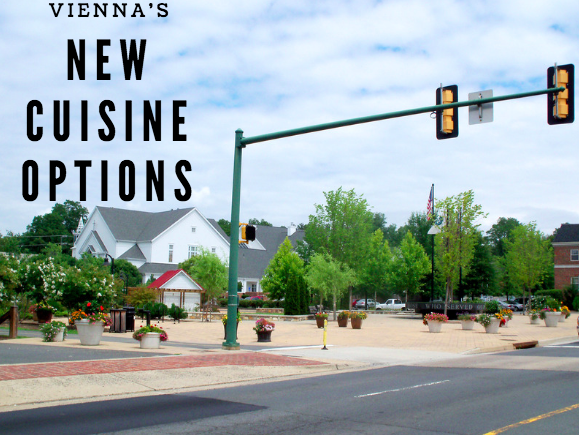 This article was originally featured in the Oct. 19 print edition of The Hawk Talk.
Ben and Jerry's
A new Ben & Jerry's in Vienna Shopping Center opened Sept. 21. They offer a variety of flavors and combinations for their ice cream. The store has a unique mural representing the town, complete with the iconic Red Caboose and D.C. skyline in the background. The store is lightly colored and offers tables for customers to hang out. Despite just opening, Ben & Jerry's is fully-staffed and offers sundaes, smoothies, shakes and non-dairy ice cream.
The grand opening of this location was Oct. 13 and hopes to attract more customers even during the winter season.
"I'm very excited because Ben & Jerry's actually has good ice cream, but I never go because all the ones around here are far away, so I'm glad there's nearby now!" Lauren Bretl said('20).
Shin Se Kai
The new restaurant Shin Se Kai Ramen, opening soon in Vienna, has been gathering student attention. Located between Spokes Bike Shop and Capital One Bank, Shin Se Kai Ramen will be a great place to hang with friends and get a taste for Japanese cuisine.
"[It's] great because most of us 'westerners' aren't familiar with true ramen," Tony Nyugen ('21) said. "It's like a simple dish you can get from the streets of Japan."
Not much is known about the construction or opening date of Shin Se Kai, seeing as there is no website or contact information. One thing that is confirmed, however, is the Shin Se Kai is not a chain restaurant. Vienna has its own, original ramen bar!
Despite unsure opening dates, students are eagerly anticipating the new place just down the road.
Don Pollo
The Vienna Shopping Center will soon welcome a new addition to its growing list of quality eateries: Don Pollo, an up-and-coming restaurant chain with locations throughout the Washington, D.C. area. Known for its "fresh charbroiled chicken and authentic Peruvian Dishes," Don Pollo is set to open its doors to the community before the year's end. Once it does, customers will be free to order from a variety of Peru's culinary staples, including dishes such as chaufa con pollo (fried rice and chicken), ceviche de mariscos (an especially beloved meal of fresh fish prepared in a citrus juice), lomo saltado (stir fry steak with onions, tomatoes, fries, and rice), and flan (a delicious baked dessert made from an open-topped pastry case and a sweet or savory filling).

"I am familiar with all of them, and particularly enjoy flan, chaufa con pollo and lomo saltado," Spanish teacher Anamaria De Ahmad said. "In all honesty, I would recommend trying all of them!"