Devan Fink ('19) visits Newseum for journalism conference
Madison student journalist speaks on his distinct experience at a newspaper program this summer in Washington D.C.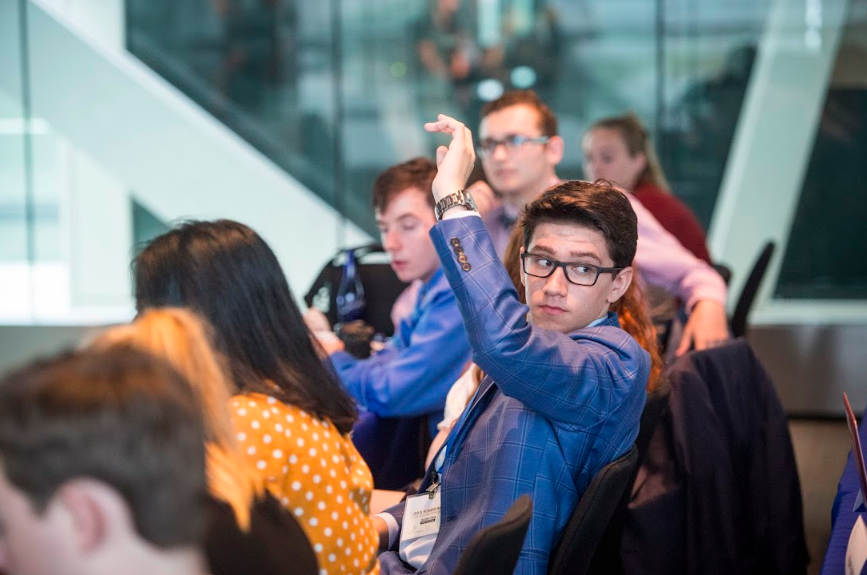 Devan Fink, Online Editor-in-Chief
October 25, 2018
This article was originally featured in the Oct. 19 print edition of The Hawk Talk.
I spent a week of my summer with one student journalist from every state. If that sounds like a unique experience, that's because it was.
Fifty-one student journalists, exactly one from each state (plus Washington, D.C.), joined together for the 16th annual Al Neuharth Free Spirit and Journalism Conference at the Newseum this past June. I was lucky enough to have been chosen to represent the state of Virginia.
From the moment I stepped into the conference room at the Newseum, I knew that it would be an incredible week.
Each student I interacted with had charisma and a love for the written word. The conference was defined by the people within it. From the very first journalist that I met, who was from Alaska, to the very last, I knew that I was surrounded by a group of people who will go on to be very impactful within our society.
Of course, there was more to the week than just the people. I met with industry leaders, including Chuck Todd, the host of NBC's Meet the Press; David Fahrenthold, winner of two Pulitzer prizes for his reporting on President Trump's business interests; Leslie Visser, the first female reporter to cover many of the crown jewel sporting events; and many others. While meeting these impactful individuals, I had the opportunity to discuss the future of journalism, how to effectively cover a story and routes we should consider to get a job within the field. All stressed the importance of journalism within our society. It is the only industry that is protected by the Constitution, as it serves as a vital check on our democracy at every level.
Above all, however, the conference was meant to honor Al Neuharth, a pioneer in the journalism industry who founded USA Today and the Newseum. The Neuharth family carries his free spirit with them, helping to inspire young journalists to follow in his footsteps. At the conference, the 51 Free Spirits watched a video which celebrated Neuharth's life and demonstrated his impact on the journalism industry.
Looking back at my one week at the Al Neuharth Free Spirit and Journalism Conference, I know that I changed as a journalist. While, yes, I did learn a lot from the lectures and activities, I learned the most from the other students, who have motivated me to be a better journalist upon my return to school for my final year at The Hawk Talk.