Virginia Election Update: Democrats Kaine, Connolly, Wexton projected to win
Devan Fink, Online Editor-in-Chief
November 1, 2018
As the calendar flips to November, it's time to pack up the pumpkins and bring out the ballots.
There are just five days until the 2018 midterm elections. Here's an update on the three races that impact Madison students, with probabilities of each candidate winning.
Virginia Senator – Incumbent Democrat Tim Kaine (98.8 percent) vs. Republican Corey Stewart (1.3 percent)
Kaine, who has served as the junior Virginia senator since 2013, is expected to retain his seat in the 2018 election.
According to FiveThirtyEight, Kaine is expected to carry 56.9 percent of the vote compared to Stewart's 41.1 percent. The most recent poll, conducted by the University of Mary Washington, had Kaine leading by 16 points. Other polls have shown similar leads for the incumbent.
In 2012, Kaine won the Virginia Senate seat by a six-point margin over Republican George Allen. As with many statewide elections, Kaine won the more populous areas of Virginia, such as Fairfax County, while Allen carried more of the rural parts of the state.
Kaine has raised $9.1 million in funds for his campaign, compared to just $2.4 million raised for Stewart. This could provide another clue as to how Virginia voters may cast their ballots, as FiveThirtyEight projects this fundraising discrepancy helping Kaine by 5.2 percentage points.
Virginia 11th Congressional District – Incumbent Democrat Gerald Connolly (>99.9 percent) vs. Republican Jeff Dove (<0.1 percent)
Connolly was first elected to the U.S. House of Representatives in 2008 from the 11th district and has won each of the four elections since, including a 2016 election in which he ran unopposed.
According to FiveThirtyEight, Connolly is projected to carry 67 percent of the vote to Dove's 29.9 percent. Since Aug. 1, Connolly has not had less than a 99.9 percent chance of winning this district.
Virginia's 11th Congressional district has a 30.2 percent Democratic lean. This means, compared to the nation overall, this district is 30.2 percent more Democratic. It is the 90th-most Democratic district in the nation out of the total 435 House districts.
Virginia 10th Congressional District – Democrat Jennifer Wexton (88.7 percent) vs. Incumbent Republican Barbara Comstock (11.3 percent)
Wexton vs. Comstock is the most competitive Virginia election that affects the Madison district.
Virginia's 10th Congressional district is nearly divided 50-50 in terms of Democrats and Republicans. In fact, there is just a 1.5 percent Democratic lean in Virginia's 10th.
This will make the House race an extremely competitive one, though Wexton has pulled away as of late. The most recent poll, from the Washington Post, had Wexton up by 13 points, 56 percent to 43 percent.
FiveThirtyEight projects a smaller margin of victory for Wexton but still has her up over 7 points, 53.7 percent to 46.3 percent.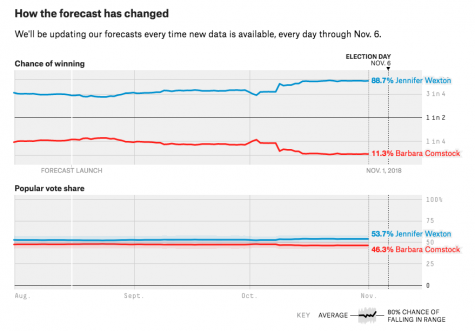 Wexton's odds of winning the House seat have only increased as the race has gone on. On Oct. 3, less than a month ago, she had just a 73.6 percent chance to win. The odds have reached an all-time high in the past week.
Overall, the main takeaway from this is that Northern Virginia generally falls on the left of the political spectrum. This has shifted Virginia from being a traditionally Republican state to a more purple state. Voters in Fairfax County, specifically, have swung statewide elections generally in favor of Democrats, despite the majority of counties in the state being mostly red. This is why the state voted for Barack Obama in 2008 and 2012 and Hillary Clinton in 2016.