Madison senior AJ Arnolie offered acceptance to Stanford, MIT, Duke, other top schools
When it came time for AJ Arnolie ('19) to start choosing which universities he would apply to, the thought "why not just go for it?" crossed his mind.
Seeking to major in electrical engineering and computer science, Arnolie began his application process by looking at the list of best engineering schools in the country. Initially his college list consisted of approximately 50 schools, but after months of considering factors such as location and size, Arnolie cut his list down to 10, including the top three engineering universities in the nation, according to the U.S. News and World Report rankings.
And, after months of waiting, Arnolie received acceptance from every single school.
"Going into the college admissions process, I had no idea where I would land, and how it would all turn out," Arnolie said. "I think these acceptances were like affirmation that all my hard work had been building up to something."
Arnolie first heard back from Stanford in December after applying as a restrictive early application candidate. He would then later go on to receive offers from Duke, Georgia Tech,  MIT, Penn State, UC Berkeley, UCLA, University of Michigan, University of Virginia and Virginia Tech.
"I opened my Stanford decision in the Madison bleachers immediately after a basketball game. I probably should have waited until I got home, but the decision had come out during the game, and I decided I wanted to get it over with," Arnolie said. "I opened my laptop, pulled up the page, read the first word and jumped out of the bleachers screaming."
Even though he describes the moment as having "some tears," ("ok maybe a lot of tears"), Arnolie has not yet committed to one school; he has narrowed it down to three: Duke, MIT and Stanford.
"When I opened my MIT decision, I had a very similar reaction," Arnolie said. "But this time my excitement just scared my dog, who was sitting on the couch next to me."
Receiving admissions to one—let alone three—of these schools in nearly impossible for most applicants. For the graduating class of 2023, both MIT's and Duke's acceptance rate saw a decrease from previous years. MIT admitted 7.0 percent of their regular decision pool, while Duke admitted a mere 5.7 percent. Though Stanford no longer releases their admission statistics, it can be reasonably assumed that they also saw a decrease from their 4.3 percent acceptance rate last year.
While Arnolie does credits some of his success to the sheer luck and randomness of the process, he also admits that his strong academic record and diverse extracurriculars mainly contributed to this achievement. Not only has Arnolie taken one of the most rigorous course loads possible at Madison, he is also a varsity athlete for men's basketball and highly involved in the educational robotics program Botball. His team, "Dead Robots Society," recently won the DC and Virginia regional competition on April 6.  On top of that, Arnolie also believes that his "pretty unusual and interesting essays" set him apart.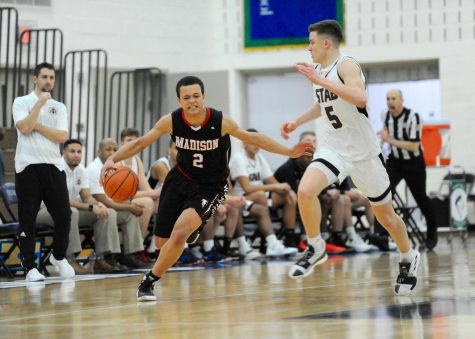 "Nobody really pushed me to apply to the schools that I did, and I kind of set that expectation for myself," Arnolie said. "[My parents] always encouraged me to push myself, but they never forced me to."
Arnolie has until May 1 to commit to one of the best schools in the nation. Reflecting on his personal process, he advises all rising seniors to start their essays during the summer—something he regrets not doing.
"I still don't really understand the college admissions process," Arnolie said. "I guess what I would say is that, it's really easy to get caught up in rankings and the prestige of schools, but it's better to find the school you'll be happiest at."