Kansas City Zoo penguins take field trip to art museum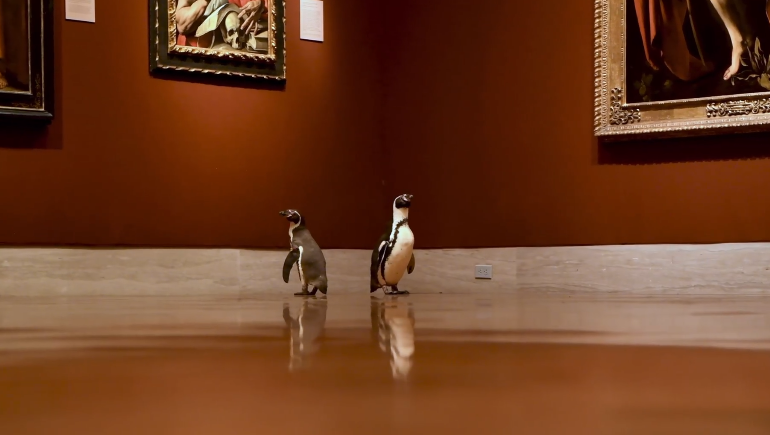 The Kansas City Zoo has been closed for visitors due to the coronavirus outbreak. Humans are told to stay inside and social distance from each other, however, they are not the only ones missing human interaction. 
On May 6, a couple of penguins from the Kansas City Zoo went on a field trip to the Nelson-Atkins Museum of Art in Kansas City, Mo. to keep them entertained during quarantine. 
"Taking care of wild animals in the Kansas City Zoo, we're always looking for ways to enrich their lives and stimulate their days, and during this shutdown period our animals really miss having visitors come out and see them," Executive Director and CEO of Kansas City Zoo Randy Wisthoff said in a video with the penguins.
As the penguins waddled around the empty art museum, they looked curiously at the paintings on the walls. 
"They seem definitely to react much better to Caravaggio than to Monet," executive director and CEO of the Nelson-Atkins Museum of Art Julián Zugazagoitia said in the video.
The museum and the zoo made sure that the penguins and the artwork were safe by examining the gallery prior to the penguins' visit. The penguins seemed to have a good time as they walked around the exhibits taking in a new environment. 
The video of the penguins in the museum went viral on Facebook, with over 1 million views. Something about watching penguins wander freely in an art museum sparked happiness in many people during this difficult time. 
This isn't the first time penguins have explored out of their habitats. 
On Twitter, the Shedd Aquarium posted three videos, on March 16, of two penguins exploring the aquarium's rotunda. The penguins slowly waddled around and looked at the fish behind the glass. Each video has over 1 million views, with the first video surpassing 5 million.