Honoring Chadwick Boseman's Legacy
Chadwick Boseman, best known for his portrayal of Black Panther in the Marvel movie franchise, died on Aug. 28, 2020.  He was only 43 years old, but suffered from terminal stage III colon cancer. His passing came as an unexpected shock as he never publicized his diagnosis. Nevertheless, his death is yet another enduring loss of this year.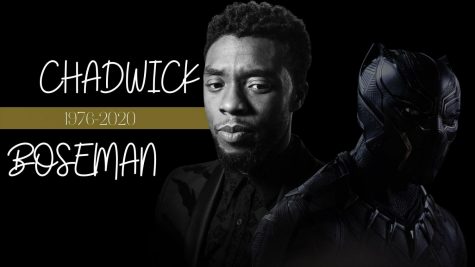 Boseman was born on Nov. 29, 1976. He graduated from Howard University in Washington D.C. and went on to pursue a career in acting at Oxford's British American Drama Academy in 1998. He made his first big appearance on-screen as Jackie Robinson in "42". He sustained his portrayal of historical figures in movies such as "Get On Up" and "Marshall" with he portrayed James Brown and Thurgood Marshall respectively. His major break, however, was Marvel's "Black Panther".
In 2016, Marvel released its first Black superhero movie, "Black Panther", featuring Boseman as T'Challa/ Black Panther. The film was a cultural milestone, as it was the first to heroize Black people and Boseman's acting provided young Black children with a relatable representation on screen. In a speech accepting an award on behalf of the film, Boseman described a society that raises the Black community to believe that they are unworthy of starring on screen and that the entertainment industry has no place for Black lead roles. However, he explained, "Black Panther" serves as a reminder that Black people are valuable and is a testament that they are "young, gifted, and Black." His contribution garnered respect and appreciation for all Black people, and the film received many awards.
Boseman took home the NAACP's Image Award "Outstanding Actor in a Motion Picture" for "Black Panther," including others from MTV, Teen Choice and Screen Actors Guild. Besides "Black Panther," Boseman gathered accolades for his work in several other movies as well. As a talented writer, Boseman also composed four plays, one of which was inspired by acts of police brutality. 
Boseman's work was far from finished. Marvel was set to begin the filming of a sequel to "Black Panther," meant to feature Boseman's return. He never saw the release of his previous and final film, "Ma Rainey's Black Bottom." However, his contributions to the entertainment industry hardly passed unnoticed. He was an activist, resolutely utilizing his platform to bridge the gap between race and representation in pop culture. His death sombered many, and figures such as the Obamas, Dwayne Johnson (the Rock), Kamala Harris and Mark Ruffalo, as well as the NAACP acknowledged this legacy that would follow his death.

Downtown Disney in Anaheim, Calif. unveiled a mural of Boseman exchanging a Wakanda salute, a symbol of "Black Panther," with a child in the superhero's costume on Sept. 26. Boseman's final film, "Ma Rainey's Black Bottom," will premiere postmortem in Dec. 2020.