College Commitments During the Pandemic
Many student athletes rely on their junior season of high school sports to get recruited and possibly gain scholarships to play in college. However, COVID-19 has affected college recruitment and commitment. The recruiting process has been modified to include precautions that help prevent the spread of the virus.
Normally, recruiting is allowed to begin between the athlete's sophomore and junior season, depending on the sport. This is when college coaches typically reach out to athletes and travel to watch them play. Due to COVID-19, there is a dead period until January because flying across the country is more difficult and unsafe to do at this time. This means that in-person recruiting is not allowed in order to prevent the possible spread of COVID-19. Emailing, phone calls and Zoom calls are still permitted. The limit on travel also affects where the athletes can get recruited from. Along with coaches traveling to watch the players, official and unofficial college visits by players are not allowed right now. 
For some sports, seniors in college are staying another year because their season was cut short or cancelled due to COVID-19. This means that the teams are larger than normal, and coaches are more likely to offer options such as redshirting and grey shirting to keep their rosters flexible.
Another effect of COVID, specifically in Fairfax County, is that the length of sports seasons are being modified. Spring sports will start in April and go until June while fall sports begin in February and end in April. Winter sports start in December and end in February. None of the seasons will have playoffs or state championships.
"The modified season definitely makes recruiting harder because we missed all the extra practice and it was a lot harder to put together film," Jordan Condon ('22) said.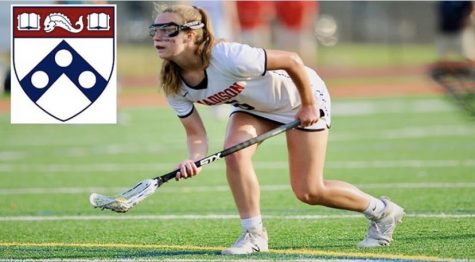 Condon is attending the University of Pennsylvania in 2022 to play lacrosse.
"It was difficult to get time to talk to the coaches because all of the communication was online," Condon said. 
Shawn Hutchison, Madison's head wrestling coach, also agreed that the modified high school sport schedule affects recruiting. 
"There are less opportunities for wrestlers to get looks and compete with others across the country," Hutchison said.
Since the beginning of 2019, recruiting has moved to become fully virtual. There are recruiting platforms that allow athletes to make a profile for college coaches to look at. The profiles contain highlights, accomplishments, and facts about the athlete. This adaptation makes the shift from pre-COVID to now easier, making recruiting more accessible for both athletes and recruiters.