The Return of Alex Smith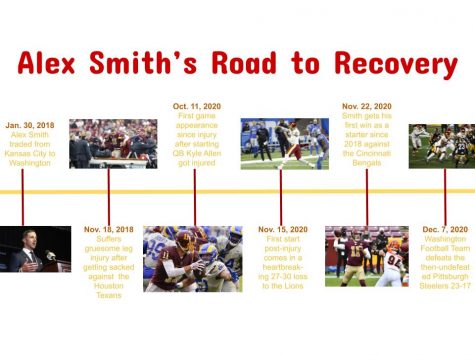 Washington comes out in a singleback set, two wide receivers to the left, Antonio Gibson in the backfield. Alex Smith takes the snap, sets, scans, and fires a bullet to Isaiah Wright who brings it down at the 48. 
In his first start since his 2018 leg injury, Washington Football Team quarterback Alex Smith recorded career highs in passing yards, completions and attempts in a 30-27 loss against the Detroit Lions on Nov. 15, a game in which Washington trailed 24-3 in the third quarter Despite failing to complete the comeback,  Smith's return to the field as a starter was the biggest story of the day.
In 2018's Week 11, Smith would take his last snap for almost two years. On a scuffed play against the Houston Texans, future Hall-of-Famer JJ Watt flew off the edge and sacked Smith, resulting in him being carted off the field and taken to the hospital with a severe leg injury
"It was a gruesome injury," David Cate ('23) said. "I thought that it would be a while before I saw him on the field again."
During his stay at multiple different hospitals and health clinics, Smith endured countless surgeries, infections and the possibility of amputation. He was diagnosed with compound fractures of his right tibia and fibula. His wound from when the bones broke through the skin became infected with fasciitis and sepsis which could have killed him and kept him in a hospital bed for even longer. His doctors believed they would have to amputate. It took four visits to the hospital and 17 surgeries to prevent the amputation, followed by a year of rehab, during which he had to relearn how to walk and run. Many people thought Smith would never step onto a football field again.
In 2018, Washington started 6-3 under Smith, but went 1-5 under three different quarterbacks after Smith's injury. The next season, after drafting quarterback Dwayne Haskins, the team went 3-13, the second worst record in the NFL. Smith entered this season as the third-string quarterback behind Haskins and free agent signing Kyle Allen under new head coach Ron Rivera. Smith finally proved ready to re-enter the game in a loss against the Rams, his first game action since his injury. 
"It was crazy to watch him play again after an injury that almost killed him," Cate said.
After Allen broke his ankle against the Giants, Smith stepped in and nearly led a second half comeback from a 20-3 deficit, The next week, Smith made his first start of the season in Detroit. As of Dec. 14, Alex Smith has a 4-1 record and captained an injured offense to a win over the Steelers, who have the best defense and were the only remaining undefeated team.
In football circles, Alex Smith is talked about as a true "football guy." The term is ambiguous, referring to any number of qualities that could make a professional football player—leadership, determination, strength, reliability, etc. Smith has so many of these. The courage to step back onto the field where he almost died. The leadership that lets him take control of any locker room. The strength that he used to work his way back through all of the obstacles that cluttered his path. Alex Smith is a football guy in every sense of the word, and we should be thankful for it.