Madison Students Volunteer as Election Pages
Madison students used the opportunity of the historic 2020 presidential election to work as Fairfax County election pages. Election pages are essential volunteers that allow for the election to proceed efficiently and safely, especially during the COVID-19 pandemic. 
Fairfax County is the largest jurisdiction in Virginia with 243 precincts, so on Election Day, a tremendous amount of volunteers is needed to ensure that everything runs smoothly. Election pages are one group of volunteers that helps to accomplish this. In Fairfax County, high schoolers who are at least 16 years old and enrolled in a civics class can volunteer to become election pages. Pages are required to complete online training before and then work an eight hour shift on Election Day.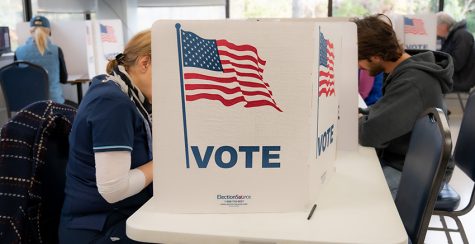 "My gov teacher told me about it [volunteering as an election page], and I thought it sounded like a fun opportunity," Rachel Boyle ('22) said. "Typically senior citizens volunteer but because of the pandemic a lot of them didn't feel safe, so I thought I should help out." 
The COVID-19 pandemic affected numerous parts of the 2020 election, including how election volunteers worked. Pages wore masks the entire time, routinely sanitized tables and spaced voters out to follow social distancing guidelines. Besides changing the role of a page, the pandemic also affected the volume of voters in polling places due to millions of early votes cast in Va. 
"Election Day was boring," Boyle said. "I think there were maybe two people there every hour."
Regardless of the lack of excitement as an election page, the job is a unique opportunity. Besides an election page, there are other volunteer positions for students interested in being involved in politics. For example, after turning 18 years old and registering to vote, students can become election officers. In Fairfax County, the role of election officers differs from pages because they set up voting equipment, check voter ID/names, assist people using voter machines and tabulate results. 
"I likely would not work as a page again, but I would consider becoming an election officer, so that I would be able to help with other aspects of working the polls that pages are not permitted to do, such as verifying ID and distributing ballots," TJ Torregrossa ('22) said. 
Despite their differing roles, both election officers and pages are integral parts of an election that help communities like Vienna run efficient and secure polling places. 
"My overall experience [of working as an election page] was positive," Torregrossa said. "Although sometimes tedious, the work there is important to do, and my time there was not only beneficial to my learning, but also to my community."