The Revival of American Soccer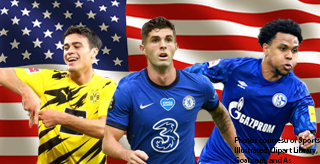 After a stunning failure to qualify for the 2018 FIFA World Cup, it would have been unfathomable to think that the United States Men's National Team (USMNT) could have a chance to do some serious damage in the 2022 World Cup. Three years removed from the U.S.'s qualifying-crushing defeat to Trinidad and Tobago, there is a strong buzz about a new generation of American soccer, led by Christian Pulisic and Giovanni Reyna, that could potentially lead their nation to World Cup glory.
As American milestones in Europe's top leagues continue to be set, optimism about the future of American men's soccer has exponentially grown. Although this recent success by American soccer players in Europe seems to have come out of the (red, white, and) blue, it has been building for multiple decades.
This sudden burst of young, talented American soccer players has been a product of the buildup of strong soccer academies across the U.S. beginning in the 2000's. The U.S. Soccer Federation, Major League Soccer (MLS) teams and even big European clubs have created strong academies that have helped develop the future of soccer. These academies have helped build the brightest young stars for the USMNT, developing a promising young core of Christian Pulisic, Giovanni Reyna, Weston McKennie and Sergiño Dest.
Pulisic, nicknamed "Captain America," was the first of these young stars to enter the professional soccer world. He mostly grew up in Hershey, PA, where he played for the PA Classics, a U.S. Soccer Development Academy club, joining German powerhouse Borussia Dortmund, which has garnered a reputation of developing some of the best young talent in the game, in 2016. He also made his USMNT debut that same year after previously playing on the U-15 and U-17 national teams. His strong performance on the national team and Dortmund resulted in a £58 million transfer to Chelsea, one of the premier English clubs. He has continued to thrive in a crowded midfield there and is continuing to prove himself as a top player on one of the most loaded rosters in Europe.
"He found his feet very quickly and had a breakthrough season in the Premier League where he produced more goals and assists than he's ever produced," Chelsea's manager Frank Lampard said when speaking to the media in October. "His performance last year was massively impressive on his own. He will get better and better because he's a young player and I never doubted Christian."
Reyna, who just turned 18, could have the most upside out of anyone on the current USMNT roster. After being a part of MLS club New York City F.C. 's academy from 2015-2019, Reyna transferred to Dortmund and made his Bundesliga debut on Jan. 18. This season, Reyna has already scored four goals and assisted on five more, including tallying three assists in a single match against SC Freiburg. The young star also made his first USMNT appearance this year, participating in both November friendlies against Wales and Panama, respectively, and scoring his first USMNT goal against Panama the day before his eighteenth birthday. Reyna, like Pulisic, is primed to use his performance at Dortmund and the USMNT as a springboard to a more prestigious club where he can continue developing his versatile attacking game.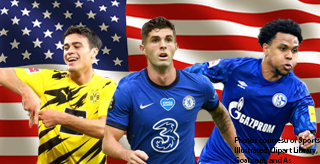 On Cristiano Ronaldo's Juventus, McKennie is showing flashes of a world-class midfielder. He scored an incredible scissor-kick goal against Barcelona in the Champions League on Dec. 8, helping Juve win 3-0 and clinch their group. Yet this goal is just a glimpse of his potential. McKennie played in MLS's FC Dallas youth teams from 2009-2016 before transferring to Schalke 04 in the Bundesliga. McKennie slowly developed before transferring to Juventus this past summer. A strong defensive midfielder, McKennie can complement Pulisic's attacking midfielder style of play and mesh well with the national team.
"McKennie is a very exuberant and very intelligent boy, he has been in Europe for some years, so he is used to a certain type of football and environment," Fabio Paratici, former player and current Chief Football Officer for Juventus, said in a report to Tuttojuve. "We count on him a lot, we have high expectations of him because he is a boy who is already at a good level, but he has great room for improvement because he comes from another football, from another culture and we in Italy are good at this."
Dest, Dutch-born but choosing to play under the American flag, spent most of his youth playing for AFC Ajax in their academy and then on their first team, catching the eye of Barcelona, who signed him during the 2020 summer transfer window. Upon making his first cap, he became the first American to play for Barcelona. Dest plays the role of an attacking right-back on the pitch, and has been one of the few bright spots during a rough 2020-21 campaign for Barcelona.
This unprecedented success of Americans in Europe's top league is poised to continue in the future due to the emergence of strong developmental academies stateside and young talent with high upside. The dawn of a new age of American soccer could be upon us, and the progress and chemistry this young group makes in advance of Qatar 2022 will only grow the buzz and hype around the USMNT.
"I feel [the excitement], everybody feels it," Dest said in a news conference on October 12. "I think because we have more players that play for big clubs, that's why everyone is excited that we can really achieve something in the upcoming World Cups."