Late Night TV Hosts React to the 2020 Election
Most late night show hosts, like the rest of the country, experienced anxiety and frustration as the world awaited the results of the 2020 election. 
Seth Meyers, in his "A Closer Look" segment on Nov. 4, lashed out against Fox News for carrying the lie that President Trump won the election when millions of ballots had not been counted yet.
"Trump and Fox News have been priming their audience with these lies for weeks, and now, the moment is here and they are taking the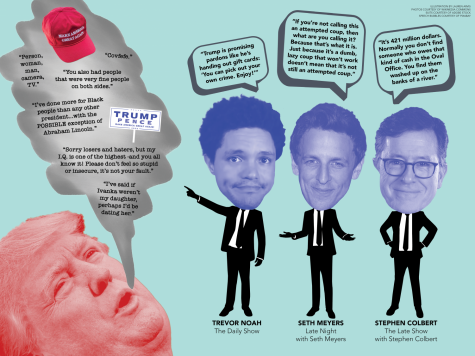 outrageous and unprecedented step of falsely declaring victory before all the votes are counted," said Meyers.
Some late night show hosts were also surprised at how close the election was.
"Obviously, the election was much closer than anyone had predicted," James Corden, host of "The Late Late Show with James Corden," said. "Despite a large turnout from voters, there was no crashing blue wave. I mean, how does this happen? Even after the Democrats got the cast of 'Parks and Rec' to reunite over Zoom. Think about it: the entire cast. I thought that would be the turning point, but no. I don't know how that didn't speak to Republican voters."
What made bigger news was the unplanned and emotional monologue by Stephen Colbert, the host of "The Late Show with Stephen Colbert." 
Following the speech President Trump gave on Thursday, mainly full of claims with little to no evidence pertaining to voter fraud and illegally cast ballots, Stephen Colbert held off on his original monologue and instead criticized the President's claims. Colbert wore black because the "President might go down a dark path." 
"For weeks, we've been talking about how there'd be a red mirage, and how all those outstanding Biden mail-in ballots might let Joe catch up," Colbert said. "And that Trump would then probably come out around, I don't know, Thursday, maybe evening news time, and pretend that he won and accuse everybody else of cheating."
At this point Colbert, got choked up and looked down. After a few seconds, he continued.
"What I didn't know is that it would hurt so much," Colbert said. "I didn't expect this to break my heart. For him to cast a dark shadow on our most sacred right, from the briefing room in the White House — our house, not his — that is devastating. This is heartbreaking for the same reason that I didn't want him to get COVID-19. Certainly why I wanted him to survive. Because he is the president of the United States. That office means something. And that office should have some shred of decency."
He then called on everyone, especially Republicans, to condemn Trump's behavior and speak up. 
"For evil to succeed, all that is necessary is for good men to do nothing," Colbert said. "So you need to choose: Donald Trump or the American people."
Colbert spoke for almost nine minutes before starting his planned monologue.