The Comprehensive March Madness Preview
After a COVID-19 hiatus, the greatest postseason tournament in the sporting world is finally back. March Madness is truly Christmas in March: creating 20 different iterations of a bracket that gets busted in the first round, games day and night, upsets, buzzer-beaters, Cinderellas and of course "One Shining Moment." This March Madness will be "Awesome baby! With a capital A," as famous ESPN commentator Dick Vitale famously says. There were certainly doubts of whether we would get here with many teams having pauses due to COVID-19, but now all eyes are centered on Indiana as the NCAA Men's Basketball Tournament kicks off Thursday evening.
The tournament is being played in a bubble-like format, with each team having a designated floor of a hotel near the Indiana Convention Center in Indianapolis, where practice courts are being housed. Games will be played at Lucas Oil Stadium, which will host the Final Four, Bankers Life Fieldhouse, Indiana Farmers Coliseum, Hinkle Fieldhouse, Assembly Hall and Mackey Arena. Most venues will have 25% seating capacity at games with fans socially-distanced throughout the stands.
The financial incentive to complete this tournament is massive. Last year, the NCAA lost $800 million from cancelling the tournament, and despite reduced arena capacities, most of their revenue is generated from the TV deals with CBS and Turner. That payday at the end of the tournament to recuperate lost money almost guarantees that the NCAA will plow through the tournament this year.
Gonzaga is the odds-on favorite to cut down the nets on April 5. They are the number one overall seed and have held the Associated Press' (AP) number one ranking wire-to-wire this season. They boast three semifinalists for the Wooden Award, given annually to the best college basketball player in the country, in Jalen Suggs, Corey Kispert and Drew Timme. This trio has led the Zags to an undefeated record, and are attempting to become the first team to have an undefeated season since 1976, which was also the last time both Duke and Kentucky missed the NCAA Tournament until this year. Mark Few, Gonzaga's head coach, is one of the best coaches nationally but has yet to acquire that elusive championship.
Despite Gonzaga's impressive success, the beauty of March Madness is that any bad shooting night could lead to that team getting knocked out. Baylor, Illinois and Michigan are the other one seeds and many view them as having the best chance of stopping Gonzaga from hoisting the championship trophy. Baylor is led by sensational guard Jared Butler, but Davion Mitchell and Mark Vital both play key roles to the team. The Bears have been exceptional in the Big 12, one of the toughest conferences in college basketball, but a COVID-19 outbreak on the team led to a three-week pause, and they have not looked the same since, dropping games to Kansas and Oklahoma State. Fueled by frustration of not winning the Big Ten Regular Season Championship, as Michigan had a greater winning percentage despite not playing the full 20 conference games, Illinois has been red hot after winning the Big Ten Conference Tournament just this past Sunday. Ayo Dosunmu is clearly the biggest star on the team, but is supported by Kofi Cockburn on the interior and guard Trent Frazier. Michigan has limped into the tournament after a rough two weeks. While still deserving of a one seed, having won the Big Ten Regular Season Championship, the Wolverines have lost three out of their last five games and lost one of their best scorers and defenders in Isaiah Livers, who is out indefinitely due to a stress injury. Head Coach Juwan Howard, a former member of Michigan's legendary Fab Five team in the early 1990s and longtime NBA player, has done an incredible job with this team, as Michigan was projected to finish sixth in the Big Ten preseason, and has developed freshman Hunter Dickinson from a project center to a second-team AP All-American.
Outside the top seeds there are many other teams that feel they can legitimately win this tournament. In the West Region with Gonzaga, Iowa boasts likely Wooden Award winner Luka Garza, a double double machine that makes 20 points look routine. Kansas, one of the few traditional blue bloods to have a successful season, is led by guard Ochai Agbaji and Hall of Fame coach Bill Self. In the South Region with Baylor, Ohio State is the true contender to upset Bears. Buckeyes' guard Duane Washington has been shooting lights out recently, scoring at an incredible rate and carrying his team to the Big Ten Conference Tournament Championship game. The Midwest Region with Illinois has more teams eyeing a Final Four run. Houston and West Virginia are on a collision course to meet in the Sweet 16, but Oklahoma State could be the most dangerous threat to the Fighting Illini. Cade Cunningham, projected to be the top pick in this summer's NBA draft, has been able to combine his incredible scoring ability with unselfishness to elevate Oklahoma State to a 4 seed. Oklahoma State would face Illinois in the Sweet 16, if both teams got there, and would make for one of the most exciting games of the tournament. Last but certainly not least, many experts are including Texas, fresh off their first ever Big 12 Conference Title, in their Final Four. The Longhorns are balanced with balanced scoring of Matt Coleman II and Andrew Jones in the backcourt with Greg Brown and rebounding machine Jericho Sims. Also threatening Michigan is two seed Alabama (Yes! Alabama is good at basketball too!), who also won the SEC regular season and conference tournament. Alabama is much-improved under coach Nate Oats and led by Herb Jones and Villanova transfer Jahvon Quinnerly, but the strength of the SEC is unknown so it will be interesting to watch how they progress in the tournament.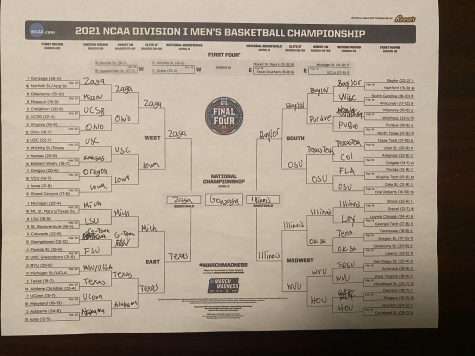 In my bracket, the Final Four consists of Gonzaga, Baylor, Illinois and Texas, with Gonzaga defeating Illinois in the championship game. It truly feels like it's Gonzaga's year to win a championship, as they have all the pieces necessary and have been very close in years past.
Of course, no NCAA tournament can be complete without upsets and Cinderella teams. The 12 seed vs. 5 seed matchups always seem to be the sweet spots for upsets, and I predict that Georgetown, UC Santa Barbara and Winthrop will defeat Colorado, Creighton and Villanova, respectively. At UC Santa Barbara, watch out for JaQuori McLaughlin to break out on the national stage and have a big performance if the Gauchos are going to win this game. Georgetown can continue to ride the wave of a remarkable Big East Tournament under Head Coach Patrick Ewing. Villanova has not looked the same since Collin Gillespie tore his MCL and is out for the season, allowing Winthrop to have a great shot at the banged up Wildcats.
Two other upsets I love are Ohio over Virginia and Colgate over Arkansas. Virginia, due to a positive COVID-19 test on their team, will not be able to practice or travel to Indianapolis until Friday with their game scheduled on Saturday night. With no practice leading up to their game, their conditioning will certainly be in doubt. Not to mention Ohio is very good. This is the same team that only lost to Illinois by two points, with Ohio guard Jason Preston dropping 37 points that game. The Bobcats will be ready to beat the still-defending National Champions and end their hopes of a repeat. Additionally, Colgate (not the toothpaste) has the potential to surprise Arkansas. With normal strongholds like Kentucky and Florida having down years, the conference as a whole has taken a hit, and I believe Arkansas was overseeded as a result. Freshman Moses Moody has been fun to watch this year and definitely has potential at the next level, but Colgate can keep up with the Razorbacks' high scoring and potentially win this game outright.
This tournament is going to be unlike anything we have seen before, but it feels so good to have March Madness back. Watching games during math, witnessing iconic buzzer beaters, humming the famous CBS NCAA Tournament theme—it's all back. So regardless of your rooting interest, recline back on your couch, make a bowl of nachos and appreciate the greatness of March Madness.