The case for Governor Cuomo's resignation
New York Governor Andrew Cuomo currently faces several allegations of sexual harassment by female aides, including Lindsey Boylan who, in an essay published on Medium.com on Feb. 24, details her account of harassment by Cuomo in the workplace: "Andrew Cuomo abused his power as Governor to sexually harass me, just as he had done with so many other women".
While Boylan was the first to come forward, she was not the last. 11 women have now alleged that Cuomo touched, spoke, or acted upon them inappropriately, including counts of groping, kissing and inquisitive comments about sexual nature. If this was not enough, Cuomo has also been accused of improper conduct in his state's battle against COVID-19. These accusations, which include knowingly undercounting the number of COVID-19 cases and deaths and forcing nursing homes to accept infected patients in New York, have led to outrage among voters.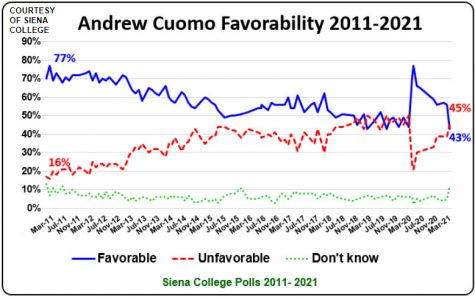 Approval rates for the governor have plummeted from a relatively high 77% at the outset of the pandemic to a low 43% just a year later. As one of the loudest and most familiar voices last spring, Cuomo solidified himself in a position of power with regard to the pandemic. Making regular appearances on television news outlets such as NBC and CNN, where his brother, Chris, hosts his own show, he provided calm updates on the state of the country at a time when people were tired of erratic press conferences and conflicting quotes. A stark contrast to the public opinion he now entertains.
Andrew Cuomo should resign. Political figureheads have too long gone unpunished for their actions. 11 allegations should be more than enough to at least cast serious doubt upon him. Spurred by the death of Sarah Everard at the hands of a police officer, women's issues, especially the sexual harassment many women face, have gained more of a spotlight. Combine that with his gross mishandling and messy coverup of COVID-19 in nursing homes, and it is then surprising there isn't more of a push to have the governor resign.
Sixty-nine percent of women have been harassed in the workplace (Pew Research Center). Seventy-two percent do not report it (Career Builder). An additional 72% were harassed by someone more senior (Coqual). It is astounding how high these numbers are, and continue to be. Women continue to be cautious around male coworkers, especially bosses or managers. 
Upwards of 5,889 confirmed COVID-19 deaths have reportedly happened inside of nursing homes as of Feb. 4, and 4,085 residents have died outside of the homes (New York Department of Health). Reports that have come out have cast a reasonable amount of doubt on the accuracy of these numbers. Likely inflating these numbers past the department's figures is Cuomo's order to drive still-afflicted patients back into these nursing homes, drastically increasing chances for more of this high-risk group to catch the virus. When an authority figure can walk through a scandal of this enormity relatively unscathed, it has far-reaching negative impacts, so we must stand against them. 
According to Siena College's research, New Yorkers do not agree that their governor should resign. However, only 24% say he has not committed sexual harassment. Voters accepted the way that Cuomo has handled the allegations, which include denying them and generally refuting inquiries about the subject, and liked his handling of the pandemic besides his nursing home prerogatives. It is encouraging that only ⅓ said that they would re-elect him. Attorney General Letitia James, who is leading the effort to remove Cuomo from office, has seen her favorability rating rise to her highest ever since she has taken on this role.
New York Governor Andrew Cuomo should resign from his office. 82.6% of Madison students agree. Sexual assault allegations by themselves justify this, but coupling this with his coverup of nursing home fatalities by COVID-19, it is obvious he must be removed from office. Many people are waiting for James' probe to finish until they formulate their own opinions, but there is already enough evidence to condemn him. To counter-claims that these women could be lying, only 2-10% of allegations are false. Considering that 72% do not even report it out of fear of forms of retribution, including damage to their career, mental health, and overall well-being, it is very reasonable to say they at least offset. One more important aspect of this case that needs to be considered is the future impact. If someone who has been extremely prominent in politics for the past year can be removed from his high office, it will encourage much more responsibility of authority figures in the future. Considering all of these factors, it is apparent that Governor Cuomo must resign or be removed from office.