Brabrand urges students, faculty, parents to "stay the course," as FCPS files lawsuit against Youngkin's mask-optional order
Superintendent Dr. Scott Brabrand hosted a virtual town hall Monday night to discuss the county's decision to continue enforcing universal masking requirements and take questions from the FCPS community. 
The town hall came after FCPS' announcement of its lawsuit, filed with six other school districts, against Gov. Glenn Youngkin's Jan. 15 executive order, granting parents the ability to opt their children out of school mask mandates, according to the Washington Post. 
The other school districts include Alexandria City Public Schools, Arlington Public Schools, Falls Church City Public Schools, Hampton City Schools, Prince William County Public Schools and Richmond Public Schools. 
The lawsuit called for the Arlington Circuit Court to void Youngkin's order. It argued that Youngkin's order violates Article 8, Section 7 of the Va. Constitution, which states "the supervision of schools in each school division shall be vested in a school board."
The lawsuit also argued that Youngkin violated Senate Bill 1303, a state law requiring school districts to follow federal health guidelines "to the maximum extent possible," including the CDC's recommendation for all K-12 students to wear masks, regardless of vaccination status. 
"School divisions need to continue to preserve their authority to protect and serve all students, including our most vulnerable who need these mitigation measures perhaps more than anyone," the seven districts said in a statement.
In the town hall, Brabrand said he was committed to "respecting the legal process," while also saying he was confident that FCPS had "a strong legal case."
There were 3,800 Zoom participants and 5,900 views on Facebook. Brabrand and assistant superintendent Dr. Michelle Boyd emphasized FCPS' success in remaining open for five-day in-person learning, despite a record-high number of COVID-19 cases this month.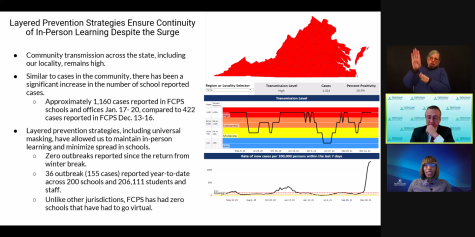 In order to maintain this favorable result, Brabrand reiterated plans to comply with CDC guidelines, along with Fairfax County Health Department, which recommends universal masking in public indoor spaces amid high transmission rates. 
"We need to stay the course and follow the science," Brabrand said.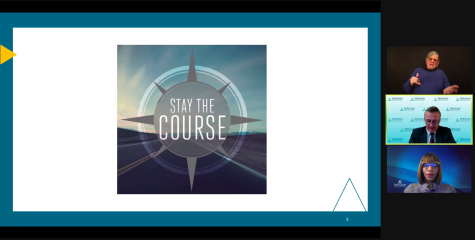 According to FCPS policy, students who refuse to wear a mask will be removed from the classroom due to their violation of the dress code, which violates the Students Rights and Responsibilities agreement. 
FCPS parent Nestor Lopez said he was frustrated that this policy took away his child's right to choose. Brabrand offered Lopez the possibility of a religious or medical exemption, dependent on school approval. Brabrand also said that masking involves balancing the rights of individuals and the rights of others. 
Dr. Benjamin Schwartz, a Fairfax County Health Department epidemiologist and town hall panelist, said if FCPS were to follow a mask-optional policy like the one Lopez supports, there would be harmful repercussions. 
"Masks are most effective when everyone wears them because we are all protecting each other from COVID-19," Schwartz said. 
Dr. Russell Libby, a prominent Fairfax County pediatrician, agreed. "It is imperative that we conceptualize that [universal masking] is the best way to protect ourselves and others."
An FCPS parent spoke in agreement with the town hall panelists, saying that the choice to not wear a mask was also a choice to endanger her child. 
One FCPS parent asked if FCPS, in following CDC guidelines, would also prohibit cloth face masks, allowing only KN95, N95 and surgical masks. This referenced the CDC's new information that KN95 and N95 masks are the most effective mask type, followed by surgical masks then cloth masks. 
Schwartz said that the best mask is one that is appropriately fitted and can be worn consistently and correctly.
Libby said that correctly  is important for children in particular, who spend the school day yelling, screaming, talking and singing, further risking the chance of transmission. 
One FCPS parent cited two alleged studies that claimed mask-optional and mask-required schools had similar COVID-19 transmission rates. However, Libby and Schwartz urged parents that masks are "the way to go" and that there will always be studies with the goal to undermine health officials and support a certain position, regardless of the scientific research that says otherwise.  
In addition to masking, the town hall panelists outlined other preventative measures that FCPS has implemented to keep school communities safe, ensuring that the county can remain open for in-person learning. FCPS will continue masking requirements on buses and monitoring of air ventilation systems. Measures will also encourage students, when possible, to eat lunch outside or in areas besides the cafeteria to limit time maskless exposure. 
Tuesday will be the first day of school for FCPS since Youngkin's order went into effect. Demonstrations took place outside of Loudoun County schools on Monday in support of Youngkin's order. 
In Purcellville, Woodgrove High School parents chanted "Free Your Faces" as around 20 maskless students entered the building. Administrators isolated those students in the auditorium, requiring them to participate in virtual learning unless they agreed to wear a mask or opted to go home. A similar event transpired at Loudoun County Smart's Mill Middle School. 
In the town hall, Brabrand expressed confidence in the county's relationships with School Resource Officers and local law enforcement to prevent anti-mask parent demonstrations from harassing students who are following masking rules. 
Brabrand was certain that FCPS students, faculty and parents would respect the decision to keep universal masking, as a "safe, inclusive community grounded in caring culture."