Ways to honor Black History Month year-round
Spanning the entire month of February, Black History Month is an annual celebration of African American achievements and the significant role they play in U.S. history. Originating with its introduction by President Gerald Ford in 1976, every U.S. president since then has officially designated the month of February as Black History Month. During its introduction, Ford had reached out to the country to "seize the opportunity to honor the too-often neglected accomplishments of Black Americans in every area of endeavor throughout our history." This statement, made nearly 50 years ago, still holds true today. Black History Month is a time to honor the legacy created by African Americans throughout history, from civil rights activists such as Martin Luther King Jr., Harriet Tubman and Rosa Parks, to pioneers of numerous industries such as science, music, and the arts.
Although Black History Month only spans over February, March 1st does not signify the end of education, celebration and exploration of Black culture. Here are three ways to continue celebrating Black History Month in the Madison and Vienna community all year:
Social Justice/Black History-Specific Courses At Madison
One of the defining tenets of Black History Month is education. When people are not taught to respect Black achievements and contributions to American History, they subsequently do not respect Black people today. This is why it is vital that Black History is important and should be taught in schools.
At Madison, students will learn about Black History in every level of required History courses. However, Madison also offers social justice and Black history-specific courses in Combating Intolerance and newly-introduced African American History & Culture classes.
"Without the African American experience being included, U.S. history is incomplete," African American and U.S. History teacher Christina Palo said. "And African Americans have been here since 1619, basically as long as whites have. So I think it's important for students to understand that there are more people in the U.S. than just our white Madison population."
"
"Without the African American experience being included, U.S. history is incomplete."
— African American and U.S. History teacher Christina Palo said.
Combating Intolerance at Madison explores different examples of discimination, intolerance, and bias. With a focus on the United States, students will have the opportunity to discuss different topics like the LGBTQ+ community, race, religion, and more amongst their peers, sharing, as well as, listening to different perspectives and beliefs.
"I think that one of the things that I like to focus on in this class is education," Combating Intolerance teacher Maria Frantzen said. "And, because I think that the more we understand not only about the different topics that we're studying, the less intolerant we will be about the different people around us."
African American History & Culture is a new course for the 2021-22 school year, and is a part of former Governor Ralph S. Northam's Virginia Commission on African American History Education. The course is open to all grade levels, but is strongly encouraged for 10th, 11th and 12th grades as the class requires a certain level of academic skill and maturity. Students will learn about events ranging from pre-colonial Africa to the present, as well as Black figures throughout history including those not traditionally included in textbooks.
Education is one of the most potent deterrents to racism and ignorance. As course selections are being finalized, consider taking one of these courses to learn more about Black history and its continued importance.
African American Historical Marker Project
Black History Month emphasizes the importance of amplifying Black voices and stories. However, this can be done year round through participating in the African American Historical Marker Project. 
The Fairfax County Board of Supervisors, FCPS, the Fairfax County History Commission and Neighborhood and Community Services are seeking narratives of Black and African American people, places and experiences in the Northern Va. area to erect new historical highway markers and signs. Currently, there are 53 historical markers around Fairfax County, ten of which feature African American communities. 
"The project's purpose is to reveal narratives and oral histories of Fairfax County's African American communities, whose rich history, culture, and accomplishments are underrepresented in history books and not fully understood in relation to the county's transformation over time," a news release from the county said.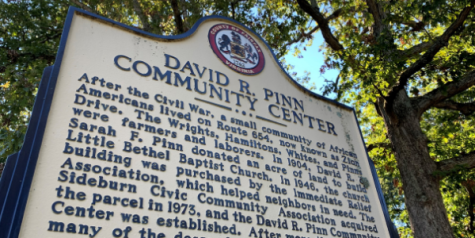 In addition to the project, Fairfax County will compile these submissions along with other digital resources to create a Fairfax County African American History Inventory, which will include websites and historical records of African American history and stories from Fairfax County residents. Students may submit stories about family, culture, faith, education, social justice, technology or housing. 
The project is accepting submissions from any K-12 student until March 1 through its website: https://www.fairfaxcounty.gov/topics/black-african-american-stories. 
Northern Va. Black-owned Businesses 
From the gym to dessert shops, Black History Month can be celebrated year-round by supporting Black-owned businesses in the Northern Va. area. 
Pie Gourmet, a short walk down James Madison drive, has served freshly baked pies since 1988. Customers indulge in Pie Gourmet's iconic sweet pies, like French apple, blackberry peach and banana cream. The shop also sells cheesecakes. On the savory side, Pie Gourmet sells its classic shepherd's and chicken pot pies and a variety of quiches. 
Non-pie fans can head over to CupCakes and Beyond in Fairfax, which is known for its specialty cupcakes, some topped with macarons and chocolate-dipped strawberries. The store also bakes personalized birthday and celebration cakes in the shape of anything from a teal Tiffany jewelry box to a scene from Animal Crossing. This Valentine's Day, the shop is selling breakable chocolate hearts. 
Outside of the food arena, Tysons Playground is a Black-owned gym that operates 24/7. With state-of-the-art equipment and facilities, it is a gym guru's dream, offering memberships, personal training and group workouts, including.
When considering a delicious sweet treat or a great workout spot, consider supporting one of these local, Black-owned establishments.