Staff members who save the day
Every year, Madison recognizes Teacher Appreciation Week, a time dedicated for students to express their gratitude towards teachers with gift cards, letters and treats. The week is all about making sure teachers know they are appreciated, respected and valued. However, it is also important to recognize  staff members, such as security guards, office assistants, building supervisors and guided study assistants, who don't have dedicated appreciation weeks. These employees all work tirelessly everyday to make sure Madison is safe, clean and that students are well taken care of. Whether it's assisting students, cleaning classrooms or anything in between, these staff members are vital parts of Madison and deserve recognition for all their hard work and commitment.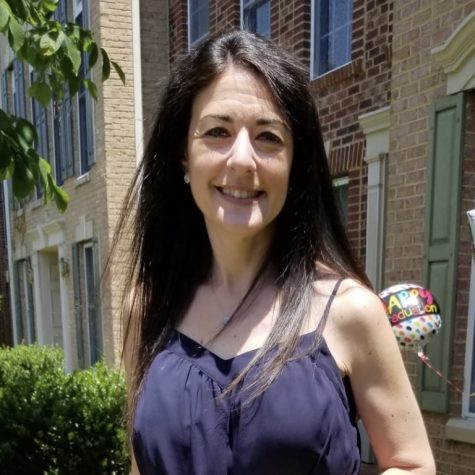 Regina Cashin has many different interests, ranging from Zumba to scrapbooking to Bollywood Dancing. She is originally from New Jersey, but has lived in Virginia for the past 16 years, and has worked as Madison's Instructional Assistant for Guided Study for the past four.
"My goal is to create a welcoming, calming environment," Cashin said. "I want the students and staff to come in and be free of the stress of the world for whatever time we are together. My job is not just about monitoring independent work time. It's about being a part of something greater than myself, and even in the smallest of ways, striving to make a difference."
When students come to her room to take tests or complete assignments, Cashin wants students to understand that she is there to support them.
"Sometimes [students] just need to know there's someone there to listen, encourage, support, praise and laugh with," Cashin said. "Regardless of  the reasons, I believe it's a privilege to be an embraced, trusted human in their lives."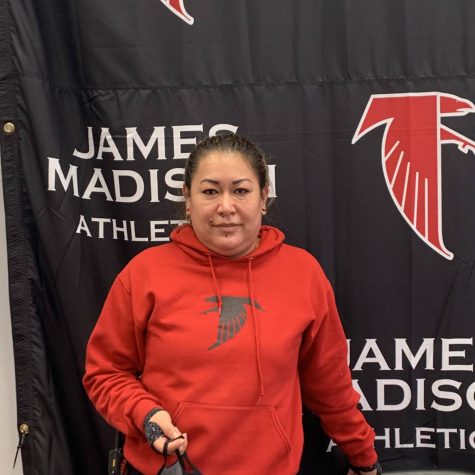 Betsy Soriano has worked as a Madison Building Supervisor since 2015. Her job entails helping prepare the school building in the morning, preparing for events and more.
"Whatever it is, we need to be ready for the students, and have everything set for them," Soriano said.
Soriano also mentioned that students can do their part to help simply by thinking about how they can treat the school well, and doing little things such as throwing trash away. Although her job can involve lots of hard work, Soriano truly enjoys it.
"I love every single part," Soriano said. "I love when students get here at the beginning of September. I love the summer when we go through every spot to make sure everything is really nice and clean. I enjoy everything in my work."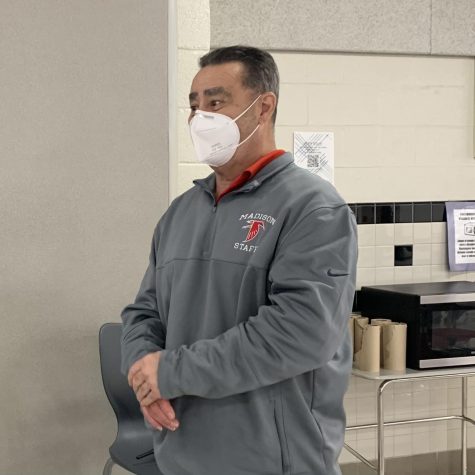 Before working at Madison, Joseph Fernandez worked as a detective for 29 years. After retiring, he went on to do background checks for the government. In 2011, he began working at Madison as a Security Assistant.
"[The security team and I] ensure the safety and protection of the students, faculty and other employees at the school," Fernandez said. "We do this by monitoring the entrances and exits, patrolling the hallways, supervising the lunches and keeping the peace among the students and being prepared for any emergency that may arise."
Much of his job involves getting to interact with the Madison community.
"My favorite part of the job is definitely the students, Warhawk Nation," Fernandez said. "I couldn't ask for a better group, they keep me young. Our security team is second to none, we work well together, along with the administrators and faculty."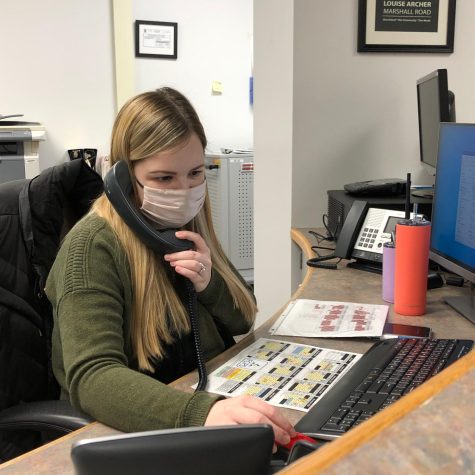 Brittany Allen began her career at Madison originally as an English teacher. Here she met her husband, James Allen, who is also a Madison English teacher, and has since transitioned jobs to be an Administrative Assistant in the front office.
As an Administrative Assistant, there are many different parts to her job.
"I am responsible for preparing substitutes, sending
out various communications, updating our school website and internal announcements page, preparing documents for other staff, etc," Allen said. "The days can get very hectic, but they're always different."
She also enjoys how much interaction she gets with the other Madison staff members.
"As a teacher, you mostly stick to your department, but being in the main office lets me get to know everyone in all different positions," Allen said.