Russia and Ukraine: The History, The Invasion and The Future
Russian president Vladimir Putin announced on Feb. 24 that he had authorized a "special military operation" in Ukraine. Soon after, Russian missiles struck cities across Ukraine. Russia has since continued its invasion, targeting major Ukrainian cities such as Kyiv and Kharkiv, all the while facing backlash from world leaders.
Though the violence has jarred the international community, it is not altogether unprecedented. Putin has previously invaded Crimea and threatened Ukrainian sovereignty, and the current invasion is a continuation of these efforts to increase his power around the world.
The Leaders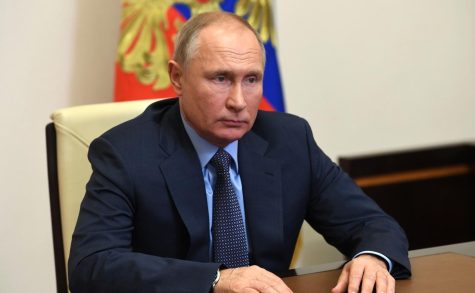 Russia and the Soviet Union have had a laundry list of infamous leaders throughout history: Vladimir Lenin, Joseph Stalin, Leonid Brezhnev, to name a few. In more recent history, Vladimir Putin has been trying to permanently etch his place on that list of influential, dictator-adjacent leaders.
Putin started his rise to power in 2000 when then-President Boris Yeltsin stepped down and appointed Putin as his successor. Putin served as president from then until 2008 and later from 2012 to the present. His past two elections in particular have been filled with claims of voter fraud, with some opponents questioning the legitimacy of Putin's victories. Putin has further alienated opponents by supporting constitutional changes to allow him to remain in power until 2036, which, if executed, would make him the longest-tenured Russian president since the Russian Empire.
On the other side of the conflict is Ukrainian President Volodymyr Zelenskyy, an actor-turned-politician who won the 2019 Ukraine election in a landslide. In spite of his lack of experience, Zelenskyy has succeeded in fighting corruption and catalyzing economic growth. He and his country have also held their own against Russian movement into Ukraine, a promising result given the history of Russian-Ukrainian conflicts.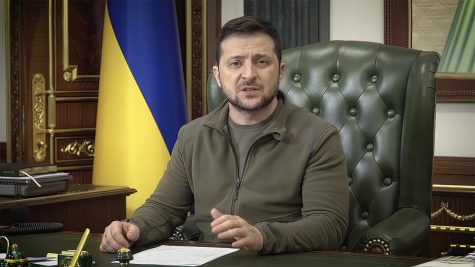 The History
Although tensions between Russia and Ukraine have been especially potent during Putin's reign, the two nations have had complicated relations even prior to Putin's rule. Since Ukraine declared independence from the Soviet Union in 1991, it has dealt with competing Eastern and Western influences, forming a capitalist democracy while also retaining aspects of older Russian society.
The Three Letter Controversy
One such tension between the East and the West concerns how Ukraine is referred to. When Ukraine was part of the Soviet Union, it was referred to as "the" Ukraine, mainly focusing on it as a region. Since Ukraine gained its independence, many Ukrainians prefer just the title "Ukraine" because they believe the state is a country in its own right, and "the" denies such independence. However, Putin, viewing Ukraine as his own province, refers to the nation as "the Ukraine."
Maidan Protests
This battle between the East and the West further manifested itself in 2014 after then-Ukrainian President Viktor Yanukovych rejected a plan to partially integrate Ukraine into the European Union (EU), a move that would have further Westernized the nation. Mass protests ensued, resulting in thousands of deaths and injuries. The Ukrainians eventually overthrew the government, and Yanukovych fled in what was a major blow to Russian influence in Ukraine.
Annexation of Crimea
In order to reassert dominance over its former protectorate, Russia annexed the Crimean Peninsula in 2014. Putin argued this was done to allow the "people of Crimea to be able to freely express their will," while Ukraine and its allies believe this was an attack intended to diminish Ukraine's sovereignty. Regardless of Russia's intentions, the annexation has led to an increasing number of Ukrainians who rebuke Russia and support joining Western alliances such as the EU and the North Atlantic Treaty Organization (NATO). As for NATO specifically, joining would give Ukraine extra military backing. When one NATO country becomes involved in a war, all other NATO countries, including the U.S., are required to provide military support. Ukrainians hope that this additional support would help them repel Russian invasions.
Donbas Separatists
To further cement influence after the deposition of Yanukovych, Russian-backed separatists seized portions of the Donbas region of Ukraine in 2014. The Minsk Agreements, signed by representatives of Ukraine, Russia and the separatist-controlled regions, among others, attempted to calm fighting between the Ukrainian army and the separatists but were ultimately unsuccessful.
"Russia never fulfilled a single, solitary one of its obligations under the Minsk agreements," U.S. Deputy Secretary of State Wendy Sherman said in a speech to the Organization for Security and Co-operation in Europe. "Russia has not supported a ceasefire. Russia has not removed its heavy weapons from proscribed zones."
The Modern State of Affairs
Although the issue remained, the world largely moved on, at least until tensions reintensified with the start of new bombings by Russian forces early this year. Russian forces have already taken Kherson, a city in southern Ukraine, and are fighting to take control of other urban hubs such as Kyiv, Kharkiv and Mariupol. This invasion has already had disastrous effects on the global economy—oil and gas prices have skyrocketed and supply chain issues have intensified—and some government officials worry more bad news is to come.
One fear is that Ukraine falling to Russia could embolden China to invade Taiwan. Ukraine and Taiwan are in similar situations since both used to be part of a major world power and are under threat of being reabsorbed. Others worry that this conflict could escalate to a third world war and potentially a nuclear conflict.
The threat of wide-ranging consequences has spurred action around the world as leaders and citizens alike look to deescalate the situation before it gets any more deadly.
Support for Ukraine
People around the globe have rallied to support Ukraine through social media posts, protests and volunteer projects. Caffe Amouri in Vienna will be donating a portion of its profits to Ukraine throughout March. Two Reston women organized a Ukrainian cooking class that has raised over $15,000 in donations. Eva Ponos, a former Madison student, is running a fundraiser to provide medical supplies for Ukraine.
"I chose to collect medical supplies for Ukraine because my aunt is staying in Iviv, sheltering refugees in her house and sorting through supplies," Ponos said. "I want to help her out by getting the refugees to her in healthy conditions."
Although not everyone in the Madison community has as close of ties to Ukraine as Ponos, they still feel the consequences of the war. According to a survey of 176 Madison students, 64% of students believe that the  invasion of Ukraine will impact their lives personally, and the volume of people affected makes Ponos' fundraiser so necessary, as evidenced by all donations she has received.
"My original goal was $500, and we passed that very quickly, so I raised it to $1,500," Ponos said. "Lots of people have been reaching out and seeing what they can also do outside of donating."
Ponos is not the only example of local support for Ukraine. Elizabeth Masturzo, a baker and owner of Delicioso Decor, participated in a fundraiser, along with about 25 other bakers. When the fundraiser went live, it sold out in seven minutes. 
"It was a no-brainer," Masturzo said. "How could you not want to contribute?" 
Masturzo was glad she could help influence others to aid the effort rather than just sending a small donation herself. To further amplify her support, she said that there are plans to do an auction with even more community involvement. 
"I thought it was pretty amazing how the community got together," Masturzo said.
What's Next
Despite vocal support from Vienna and the international community, some Ukrainians believe other nations should be doing more to help. Zelenskyy has urged world leaders to send weapons and ammunition and enact sanctions on Russia. He has also urged NATO to impose a no-fly zone over Ukraine to protect citizens from Russian air attacks, and he has continued to push for the acceptance of Ukraine into the EU.
"Without you, Ukraine will be alone," Zelenskyy said to representatives of EU nations. "Prove that you'll not let us go."
If you would like to help Ukraine, countless organizations are accepting donations. The International Rescue Committee, the Ukrainian Red Cross, World Central Kitchen and the United Nations High Commissioner for Refugees are good places to start.