A Review of Roberto's Restaurant
Get ready to say Ciao! to Vienna's newest business: Roberto's! Ever since its grand opening in early February, this vibrant restaurant has been serving the Vienna community with the best Italy has to offer. The business recently moved to Vienna to be a part of an "extremely kind and supportive" community. Editor-in-Chief Annabelle Rosse recently visited to get a taste…
Right upon entering, you get a glance of Roberto's heightened refinement. From the front door, you can see the dazzling decor, all carefully curated by owner Nancy Sabbgh. She greeted me as soon as I entered, adorned with a welcoming smile. I did not make a reservation but my party of three was promptly seated. However, I would recommend reserving a table if possible because I do believe this venue will be a popular foodie destination in the near future. 
The dining experience began with a basket of various breads. My table was unsure of what to make of the large assortment until the owner approached us and began to explain it all to us. All the bread served in Roberto's is made in house and switched out on a regular rotation. The party favorite was the sfogliato, a "pull-apart" bread filled with cheese, as well as the grissini, a type of breadstick. These breads are also free for the table, which is a surprise when considering their quality and quantity.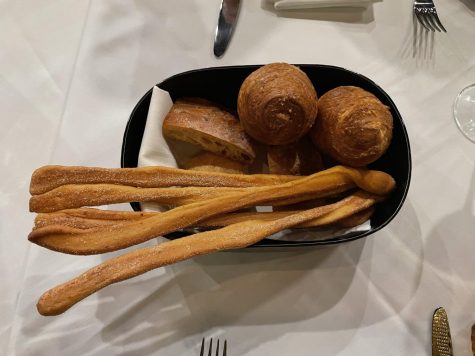 Bread Basket
When ordering off the regular menu, my table began with the antipasti menu, selecting a plate of prosciutto and mozzarella. We didn't have to wait for long though, the food service was fairly prompt. 
The starter consisted of a prosciutto roll with mozzarella tucked inside. Surrounding the meat centerpiece was a handful of torched fig halves decorated with a honey and balsamic drizzle. This dish was one of my favorites; the salty and slightly nutty prosciutto balanced perfectly with the soft cheese. My one grievance would be the figs, but that's mostly because of personal preference. I personally believe they weren't the best accessory with the main part of the dish.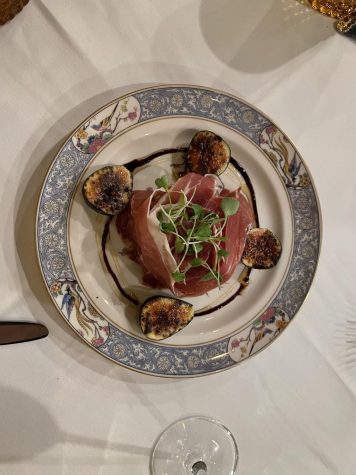 Prosciutto Roll
The tableware was reset after every course, which further added to the ornate atmosphere of the restaurant. Each course also had its own unique plate, each one immaculate in its own right.
Next, my table went on to select our second course. I ordered off the antipasti menu once again for my main dish, breaking the norm for these types of restaurants. It was a good choice, however, since even the appetizer options are large enough to serve one person. 
I felt drawn towards the seared sea scallops, especially since the description included a "squid ink lattice." I personally had never tasted squid ink before, so it was an intriguing feature. I didn't regret this decision, as soon as I saw the dish, I was obsessed. As the waiter presented our dishes, my party got an in-depth description of each dish. Our other dishes, the gnocchi alla caprese and the roasted local rockfish, were made with local ingredients and equally as stunning as the scallops.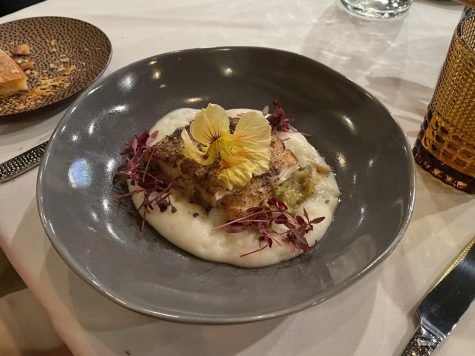 Rockfish
Beginning with my own dinner, the scallops rested on a pillow of trumpet mushroom potato foam (which is essentially aerated mashed potatoes). Scallops are normally hard to cook, as anyone who's viewed an episode of Hell's Kitchen can tell you, but Roberto's were divine: soft, succulent and buttery. The potato foam gave the right saltiness to match the subtle sweetness of the seafood. It was a good, light meal for any shellfish lover. The same could be said for our rockfish, which also included the beloved potato foam. 
The gnocchi plate was good as well. If you are intimidated by fanciful menus, this dish is a safe winner. The pasta is stirred into a mozzarella and tomato sauce with bread on the side. It's perfect for those picky dates. 
As my party finished up their main courses, we were offered the dessert menu; we had been looking forward to it all evening. We ordered one of each dessert in order to taste everything.
I selected the chocolate mousse. As a lover of all things chocolate, I needed to get a taste of this dessert for myself. And I hope I'm not too brash when I say that I would give up my firstborn child for another plate of this mousse. The chocolate was delicately rich and paired well with the caramel sauce within. Our other two desserts, the panna cotta and castania, while good, fell short in comparison to the delectable chocolate mousse.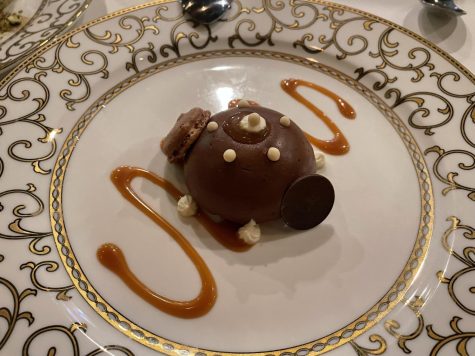 Chocolate Mousse (Annabelle Rosse)
I do have to talk about the aesthetics of Roberto's dishes. Each plating is its own work of culinary art (and look great on Instagram, I may add). Chef Donna takes the time to perfect each dish's presentation before it leaves the kitchen and it shows in the artistry of each course. Although the menu may seem small and intimidating, don't worry. It's short by design and rotates according to seasonal ingredients, so there's always something new. 
Overall, I would definitely recommend Roberto's for anyone looking for a fancy dinner spot, especially for the upcoming Spring Formal or Prom. It's a great way to impress a date or anyone else close to you (just be sure to order the chocolate mousse).