Students walk out in protest of Youngkin's new "alienating" policies regarding transgender students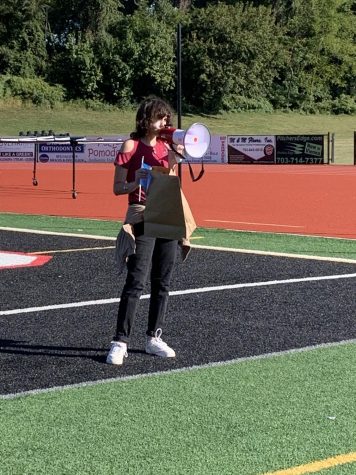 Students organized a walkout on Tuesday in protest of Governor Glenn Youngkin's new proposed policies regarding transgender students and "parent rights." The "2022 Model Policies on the Privacy, Dignity, and Respect for All Students and Parents in Virginia's Public Schools" opened for a one-month public comment period on Sept. 26.
The 20-page model policies document overrides a 2020 Virginia law that required school districts to maintain students' privacy regarding their gender identity and their preferred pronouns and/or names, stating that "schools shall defer to parents to make the best decisions with respect to their children." 
The document instructs school officials to report to parents in specific regard to the preferred pronouns and/or names a student uses, whether a student has received any counseling that "encourages a gender that differs from their sex," and/or whether a student's gender expression at school differs from their assigned gender. 
Also, while the policies encourage districts to make "single-user bathrooms" available in order to provide "accessibility for all students," they also state that "students shall use bathrooms that correspond to his or her sex."
Students at the protest expressed various objections to the new policies.
"I think it's extremely important that students have their preferred names and pronouns used and respected in school, because without that, it enforces the idea that the world does not care about the voices and experiences of trans people, and encourages the erasure of our existence," Lee Patino ('24) said. "Any school that claims to be inclusive and welcoming needs to extend that to everybody in the school, including trans and nonbinary people. For many people who do not have accepting families at home, a school that respects their identity can be a safe space, a place to feel loved and cared about. These new transphobic policies would destroy that safe space, and encourage the idea that trans peoples' voices do not deserve to be heard."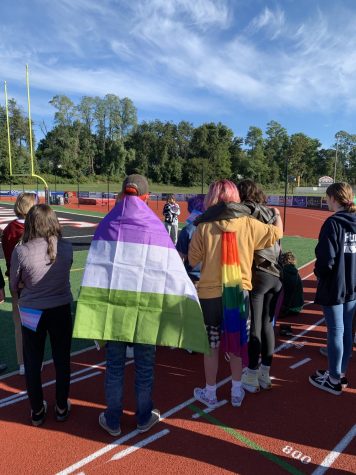 After being open for a mere 24 hours, the public comment forum for Youngkin's proposed policies has received over 19,000 posts–some praising the new guidelines and some criticizing them. One commenter referred to the policies as an "abhorrent temper tantrum from Virginia's so-called leader."
Youngkin, however, remains dedicated to the new mandate.
"I would find it very hard to argue that a parent being engaged with a child's life is inconsistent with that child's safety…the word bullying shows up in the draft guidelines 36 times," Youngkin said in defense of the policies during an interview with WTOP News. "This is about keeping people safe, but also fully, fully involving parents in these most important decisions."
Protestors at Tuesday's demonstration used the word "ironic" to describe Youngkin's insistence that the policies are meant to ensure that students are safe from bullying.
"These proposed policies are a direct threat to the safety and well being of trans and nonbinary students," Caroline Fennel ('24) said. "It does nothing but strip students of what, for some, may have been the only place they can present as or be referred to as their correct gender. It shows clear as day that Youngkin cares more about the opinions of parents than the lives and safety of the students, the kids actually attending schools."
During the protest, several students took turns using a megaphone to address the crowd, sharing personal experiences and fears about how the policies could impact the inclusivity  of Virginia public schools. Several speakers brought up concerns about the mental wellness of gender non-conforming students and about how the new policies could lead to an increase in suicidal ideation and suicide attempts. According to an article published on the National Library of Medicine's website, "82% of transgender individuals have considered killing themselves and 40% have attempted suicide, with suicidality highest among transgender youth."
One transgender student protester, after sharing that they had once attempted suicide themselves, asked the crowd, "How many trans kids are going to kill themselves because of [these policies]?"
In an email to the community on Sept. 18, new FCPS Superintendent Dr. Michelle Reid reassured staff, students and families by reiterating the county's goal to provide an inclusive atmosphere for every student.
"Here at Fairfax County Public Schools, we are dedicated to providing a caring climate and culture where each and every student, staff member, and family is welcomed, respected, valued, and supported, as they experience a deep sense of belonging." 
The one-month period for public comment on the new policies will end on Oct. 26, and the policies will be enacted the following day.
If you or someone you know needs help, call or text the National Suicide Prevention Lifeline at 988. Crisis Text Line also provides free, 24/7 confidential support via text message to people in crisis when they text to 741741.