NFL Rookies: Boom or Bust
As the 2022-23 NFL season gets underway, rookies will either shine or fail. These are my top 5 rookies most likely to boom or bust.
Achieve this season:
Standing at 6'7" and 265 pounds, Aiden Hutchinson certifies a spot on my top 5 rookies list. Hutchinson was a star defensive end throughout his college career at the University of Michigan, leading the Wolverines with 14 sacks in 2021. Hutchinson was drafted 2nd overall by the Detroit Lions in this past year NFL draft, and his play in college has already transitioned onto the field, racking up four and a half sacks so far. Hutchinson's tall, athletic frame, ability to make plays, and success so far this season contribute to why I think he will have a significant rookie season.
Quarterback Kenny Pickett from the University of Pittsburgh was drafted by the Steelers in the first round of this year's NFL draft. At first, the starting spot was given to Mitch Trubisky, but was later given to Pickett after a good performance against the Jets. Although the battle between the two has been quite entertaining, the majority of Steelers fans want Pickett to be the one running the offense.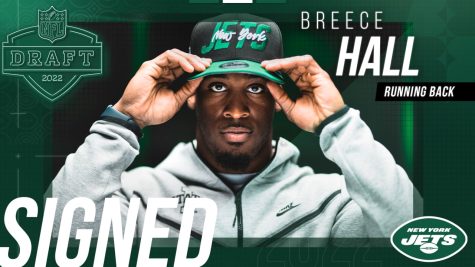 Iowa State Running back Breece Hall's strong catching ability makes him a dual threat as he has won the starting running back role for the New York Jets. However, a recent injury has sidelined him for the rest of his season, leading the Jets to trade for former Jaguars back James Robinson. Robinson shouldn't take too many carries from Hall when he returns however, as his ceiling is still yet to be seen.
Wide receiver George Pickens was drafted by the Steelers alongside Pickett. The star was a major reason why Georgia won the national championship last year, and is making great catches to put his team in better positions. Pickens has put up a 13 yard-per-catch average through seven games so far.
After giving up zero passing touchdowns in his entire college career at the University of Cincinnati, cornerback Ahmad "Sauce" Gardner was drafted by the Jets. He's had had a very good start to his first NFL season, locking down Bengals receiver Jamaar Chase, one of the best receivers in the NFL. Not a lot of rookies' seasons begin like this young star's has, and as the season progresses, Gardner will continue to prove who that starting spot belongs to.
Underachieve this season:
With the Eagles starting out 4-0, defensive tackle Jordan Davis has not seen much of the field mostly because of Fletcher Cox, a veteran defensive tackle continuing to set the tone for the Eagles. Coming out of the University of Georgia, Davis was a dominant force his whole college career. It is not clear how good Davis really is yet because of the quick transition from college to the NFL, but we may see an upswing in production later.
Quarterback Malik Willis' ability to run the ball is what makes him different from other quarterbacks. Willis transferred from Auburn to Liberty University before the 2019 season. Willis finds himself on the Titans as the backup for Ryan Tannehill after being picked in the 3rd round of last year's draft.
Coming out of the University of Southern California (USC), wide receiver Drake London was one of the greatest receivers in college football in my opinion. He was drafted by the Atlanta Falcons with the 9th overall pick last year, which was considered a reach by some draft experts. So far, London has not been playing to his full potential or making the plays that he had made in college. However, once London adjusts to the speed of the NFL, he has the potential to ascend.
Coming out of Notre Dame, defensive back Kyle Hamilton is now on the Baltimore Ravens. He has not seen much of the field and needs to prove himself. For now he remains a bust as a backup, because of his relatively limited athleticism and his inability to make plays.