Vienna's bubble tea war rages on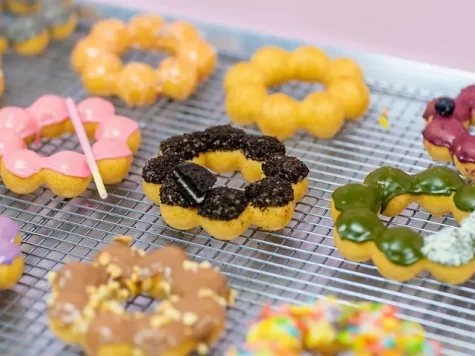 Over the last few years there has been an increase in bubble tea shops in towns across the country, and Vienna is no exception. Bubble tea is a tea-based drink that originated in Taiwan, and over the last 40 years it has become a popular drink in the United States. In just a few years, downtown Vienna has had four bubble tea shops all on Maple Avenue. Earlier this year, Bubble Mochi replaced Gem Tea, which was another bubble tea shop with very similar menu items. Less than a year later, the town's newest bubble tea store, DONUTCHEW, opened its doors just a block away from Bubble Mochi. These stores have nearly identical drinks and menus. This is leaving many Vienna residents wondering how these two very similar shops end up so close to one another, and which one is better?
Bubble Mochi opened earlier this year and has become one of the most popular places for teens to hangout in Vienna. Bubble Mochi serves a more Americanized version of bubble tea, by having more than the traditional flavors and textures of both boba and tea itself. Bubble Mochi has a more diverse menu which differentiates it from the other bubble tea stores in Vienna. They offer mochi donuts, macarons and a new addition of boba soft serve in addition to having bubble tea.
"I don't know why [DONUTCHEW] opened there," the owner of Bubble Mochi states, " I hope we both succeed and are both successful."
DONUTCHEW, the newest addition to the bubble tea stores on Maple Avenue,  had its grand opening on Sept. 9. DONUTCHEW is part of a bigger franchise of stores that has opened up around the United States. The owner mentions that she searched for a location with her sister for six months until deciding on Vienna. DONUTCHEW, in comparison to Bubble Mochi, is more authentic and similar to the original bubble tea. 
"Every business has competition," said the owner of DONUTCHEW, "It's good for the community, as it allows them to pick their favorite."