Fall sports continue into postseason
As the weather gets colder and the stadium lights turn on earlier, fall sports at Madison are in full swing.
The football team got off to a rough start at the beginning of their season. Yet after going 0-3 they achieved their first win against Langley with a score of 28-3, and began a winning streak in the following games against Marshall and Oakton.
"We have lost a lot of close games because we play at the other team's level and lose to ourselves and the errors we made," varsity football captain and defensive end Eric Anderson ('23) said. "But learning from this we can definitely turn our season around and get back on track." They feel optimistic about their season going forward and into the playoffs. "We now know what it takes to be successful and I believe we have the chance to do so. We as a team just need to come into games fired up and play at our level."
Like last season, varsity field hockey has begun strong, going 6-1 in their first four weeks. Many returning seniors have helped to retain the team's identity.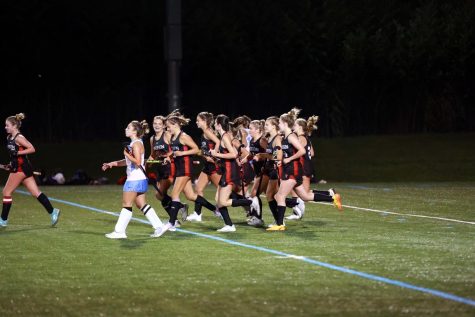 "The season has been going really well," varsity field hockey captain and center mid Tess Satterfield ('23) said. "I think we are going to be very successful for the rest of the season. For the postseason we have already played some of the strongest teams in our region so we know what it takes to win." The region games have proved to be demanding, but despite some tough losses in later weeks of the season, they have managed to deliver tight victories against teams such as Oakton and Centreville.
In the preseason, volleyball attended a weekend camp at University of Virginia where they were able to bond as a team and improve as players. Not only the camp but early experiences in the season have given them opportunities to grow.
"We lost to Marshall which was one of our first games but it made us stronger as a team," varsity captain and defensive specialist Hannah Banford ('22) said. "I think we have the potential to go far in the playoffs. I am excited to see what the rest of the season brings!" The team has maintained a solid winning record throughout the season, and has been fairly dominant in the region as well.
In their first meet, both boys and girls cross country placed highly and put forward strong individual showings. The team feels as if they can continue these impressive performances throughout the next couple months.
"The rest of the season is really looking up for both teams with them each being a real contender for district champs," cross country captain and varsity runner Lily Jacobs ('23) said. Invitationals begin taking place in the near future, which are some of the largest meets with multiple states represented.
"There's definitely some nervous feelings going into these meets, but the girls team is one of the best it's ever been with a really strong sophomore trio that will hopefully help take the team far," Jacobs said.