The Cox Farms Fall Festival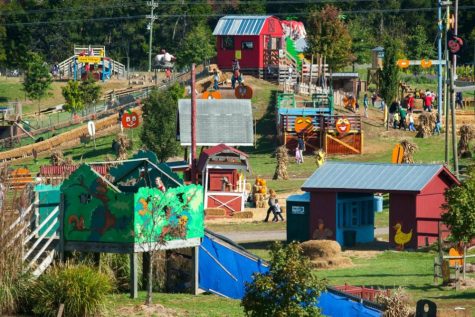 Cox Farm opened 50 years ago, since then it's become a staple of the fall season for NOVA citizens.
Gina Richards and Eric Cox met at Herndon High School in their math class over 50 years ago. Following their marriage Richards became a partner in the farm Cox had started with his brother. Over the next five decades they would open a second location in Centreville (and close their Vienna location); build rope swings, slides and a corn maze; put together Fields of Fear and open a year round farmers market. 
Cox Farm's busiest season is the fall due to their immensely popular Fall Festival. This family oriented event is open most weekdays throughout the fall and has a variety of autumnal attractions. Younger guests may enjoy the option to try farm tasks like pumping water from a working well. If they're particularly interested in living out their wild west dreams they can ride wooden horses with hair made from a mane brush or hang out in front of a movie-set style old saloon. For those a bit older the fun house style corn maze may be of interest, with trippy side adventures through a turning school bus or a tilted house. All guests can enjoy a variety of traditionally fall themed food like caramel apples and kettle corn. Similarly, the array of giant slides is popular with all visitors as is the option to bring home a free mini pumpkin.
The festival began as just a hayride organized by Eric Cox to take visitors pumpkin picking when the farm was still new in 1979, but only six years later it had become a weekend-long event. Over the next 24 years an array of attractions would be built and the weekend would grow to become the Fall Festival it is now. 
The Fall Festival isn't the only seasonal celebration however, for the middle and high school crowd Fields of Fear is the farm's main event. Featuring many of the same attractions as the fall market with an added twist of chainsaws and zombies. Visitors have their choice of a cursed corn maze, horror filled hike through the woods or—for those less inclined to risk a chance encounter with otherworldly creatures—an only semi-haunted bonfire. While during the day guests may enjoy shopping for pumpkins in the market, night brings the opening of the Last Chance Eats where atomic cotton candy and hot beverages are the preferred purchase. Those who enjoy a stroll in the woods are in luck as the farm offers a half mile forest adventure though guests who are afraid of the dark- and even those who aren't- may want to be extra careful as this hike has a few extra surprises. If the hike in the woods isn't enough of a scare, a nice jaunt in the corn maze is always an option, made all the more horrifying by the presence of undead companions. Visitors less inclined to walk may prefer a hayride, though, unlike a typical hayride, this one takes its passengers through an abandoned circus that occasionally comes back to life. 
The Fall Festival (and Festival Market) are open 10 a.m. to 6 p.m. Thursday through Monday from mid September to the end of October and 10 a.m. to 5 p.m. in early November. Fields of Fear is open from 7:30-11 p.m. (last entry at 10 p.m.) on Fridays and Saturdays between September 23 and November 5. Tickets for both events must be purchased online and prices vary, Fall Festival tickets ranging between $10 and $25 while Fields of Fear tickets range between $25 and $35.