FCPS welcomes new superintendent
Dr. Michelle Reid assumed the role of Fairfax County Public Schools (FCPS) Superintendent on July 1, 2022 after a 9-3 vote by the school board.
Reid is taking on a much bigger role in FCPS after her previous position as Superintendent of Northshore District in Bothell, Wash. Northshore District is much smaller than FCPS with only 22,000 students compared to 180,000 in FCPS. Reid has strong credentials, holding a doctorate in Educational Leadership and master's degree from the University of Washington, along with an advanced certificate in Advanced Leadership from Harvard University. Reid was declared the American Association of School Administrators National Superintendent of the Year in 2021.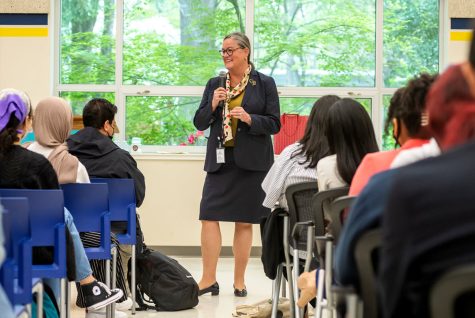 She has been praised for her early pandemic response through her creativity of successfully meeting the needs of students through challenging online learning times. In an article published in FCPS, Reid mentions how she wants students to have a voice in FCPS, and plans to regularly meet with various groups of students to gain a better perspective of what they think is important to add to the FCPS community.
The nationwide search for the new superintendent began at the end of the 2021-22 school year. Many candidates were considered, but Dr. Cheryll Logan, the current Superintendent of Omaha Public Schools in Nebraska was the finalist against Reid for the position.
Numerous students felt conflicted with the decision of Reid taking on the role of FCPS Superintendent. Students formed 200 walkouts along with a 500-student petition opposing her appointment. Many felt that Reid was unprepared, given that her previous Washington State District, Northshore, is a ninth of the size of FCPS. Some were also troubled with the lack of diversity in Northshore, which consists of a student body that is less than 3% Black.
In the Virtual Town Hall that Reid was a part of in May 2022, she was asked many questions about her future plans as Superintendent, including why she had chosen to come to FCPS.
"The world-class reputation of Fairfax County Public Schools is one that has been known for many years," Reid said in response.
Reid sent out an email to the parents and staff of FCPS in response to Governor Glenn Youngkin's new proposed policy regarding the rights of transgender students in Virginia.
"We are dedicated to providing a caring climate and culture where each and every student, staff member, and family is welcomed, respected, valued, and supported, as they experience a deep sense of belonging," Reid said.