The incredible legacy of Serena Williams
Born Sept. 26, 1981 in Saginaw, Michigan, Serena Williams is a tennis legend. Williams grew up with one full sister, who she has faced many times in the professional tennis world, and several half-siblings on both her mom and dad's side. She moved to Compton, California in 1983, and by 1984, she had started practicing tennis. By 1991, she played in her first tennis tournament and made her professional debut in 1991 in Quebec at just 14-years-old. After years of hard work and patience, she won the US Open as her first grand slam on Sept. 1, 1999 at the age of 17. Throughout the duration of her career, Williams has 858 tour victories, 73 single titles, and an Olympic gold metal. After 27 years of playing professional tennis, she retired at the age of 41, after her recent defeat in the US Open.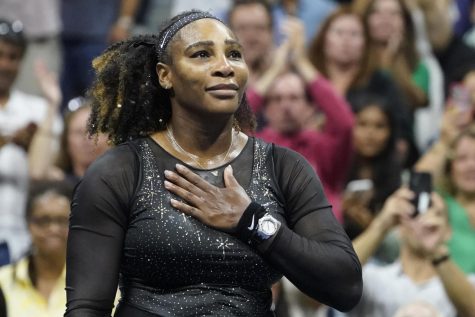 Through her career, Williams won 23 singles grand slam titles, which is more titles than any male tennis player and one away from matching the world record, which is currently held by Margaret Court. Along with all her grand slam awards, she has won the Best Female Athlete ESPY Award several times, the Glamor Award for the Athlete, the Shorty Award for Best in Sports and many more. Allie Howard said, "I have always looked up to Serena Williams and I wish I could be as hard working and strong as she is. I know she is someone I will never forget."
Williams once said, "The success of every woman should be the inspiration to another. We should raise each other up. Make sure you're very courageous: be strong, be extremely kind, and above all be humble." Along with all the previous achievements, she has become a role model for people all over the world. Williams showed young athletes that age is just a number and to not let it stop you. She has shown girls all over the world to not let gender stop you because gender is just a category. Taylor Smith said, "I think she is a very powerful woman and she hasn't let fame impact her and change who she is."
Not only did Williams make a huge impact in women's tennis, she also made a huge impact in society. Williams is very involved in several charity organizations including the Serena Williams fund, building schools in Africa, several more. She has donated over $1 million to charities and organizations all around the world. Her kindness has been recognized on many popular late night shows and sit downs. She has been on The Late Night Show with David Letterman, The Ellen DeGeneres show, The Today Show, CBS This Morning, The View and several more.
In a video released after Williams retirement announcement, Lebron James said "Congratulations to you on an unbelievable career," and  "You're a GOAT. What you've done for the sport of tennis, what you've done for women and what you've done for the category of sport." Now, even though Williams has retired, we can all learn something from her and her legacy will never be forgotten.