Marvel Studios enters fifth phase
Marvel Studios recently unveiled their official Phase Five project lineup at the 2022 San Diego Comic Con in July. The reveal also hinted at details regarding the next Fantastic Four and Avenger adventures. The new project casts consist of many new characters and some beloved, returning ones.
Before hurtling into Phase Five, Marvel Studios is working toward the release of its last Phase Four projects. This includes the new "She-Hulk" series, starring Tatiana Maslany as Jen Walters. They are also releasing the sequel to 2016's "Black Panther," "Black Panther: Wakanda Forever," starring Letitia Wright as Shuri, Dominique Thorne as Riri Williams, Daniel Kaluuya as W'Kabi and Angela Bassett as Ramonda.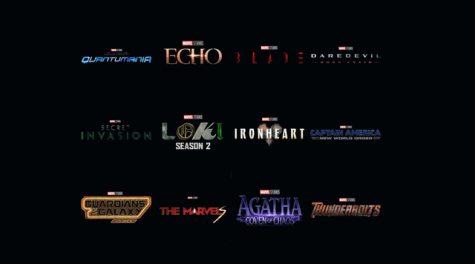 Phase Five kicks off with "Ant-Man: Quantumania," starring reprising Paul Rudd in his role as Scott Lang and Evalengine Lily as Hope Van Dyne. The project is set to release Feb. 17 2023. Following "Quatumania" is the new TV series "Secret Invasion," which is set to release in spring 2023, starring reprising roles of Cobie Smulders as Maria Hill, Samuel L. Jackson as Nick Fury, Don Cheadleas as James Rhodes and Martin Freeman as Everett K. Ross. "Guardians of the Galaxy Vol. 3" will follow the release of "Secret Invasion," hitting theaters on May 5, 2023.
Succeeding "Guardians of the Galaxy Vol. 3" will be the TV series "Echo." "Echo," the "Hawkeye" spinoff, will follow Maya Sanchez as she navigates her father's company in the crime world as someone who is deaf. "Loki" season two touches down on Disney Plus in spring 2023 with "The Marvels," a sequel to Marvel Studios "Captain Marvel," following closely on July 28, 2023.
"Ironheart" will be the next project and stars Dominique Thorne as it follows the story of her character Rini Williams. Thorne's debut into the Marvel Cinematic Universe will be in "Black Panther: Wakanda Forever," which will come out before "Ironheart" is released in the fall of 2023.
Another new addition is "Blade," starring Mahershala Ali, who was originally casted in 2019 and had an implied part in Phase Four's Eternals credit scene where Dane Whitman, played by Kit Harrington, opens a box containing an ominous looking sword. The audience then hears the voice of Mahershala Ali as Blade. Dane Whitman's part in Eternals mentioning his complicated family history foreshadows Blade's debut into the MCU as the vampire hunter. Following "Blade's" release, the  "Agatha: Coven of Chaos" series starring Kathryn Hahn will come out in winter 2023 or 2024.
Coming close to the Phase Five end, "Captain America: New World Order" hits theaters May 3, 2024 with reprising roles starring Anthony Mackie as Captain America, Sebastian Stan as Bucky Barns and Carl Lumbly as Isaiah Bradley from "The Falcon and the Winter Soldier."
After the premiere of the fourth "Captain America" movie, it has been confirmed that "Daredevil" will be returning to the Marvel Universe. "Daredevil: Born Again" is set to launch in spring 2024 as an 18 episode series starring Charlie Cox as Matt Murdock, Elden Henson as Foggy Nelson and Vincent D'Onfiro as Kingpin.
"The Thunderbolts" will mark the finish of Phase Five on July 26, 2024. The new group will aim to replace the Avengers as the new assembled character crew. The movie will star Florence Pugh as Yelena Belova, David Harbour as Alexei Shostakov, Sebastian Stan as Bucky Barns, Olga Kurylenko as Antonia Dreykov, Julia Louis-Dreyfus as Valentina Allegra, Wyatt Russel as John Walker and Hannah John-Kamen as Ava Starr.