Harry Styles can act, but should he?
Everybody knows who Harry Styles is—it's almost guaranteed you've heard "As it Was" or "Watermelon Sugar." The former One Direction heartthrob is now one of the most successful artists in the world. With a Grammy, four VMAs and other awards tucked into his belt, it seems like there's almost nothing creatively he can't do. He's even added actor to his resume as of recent. Styles has shown that he is good at acting but it seems that he won't be wildly successful in the movie industry.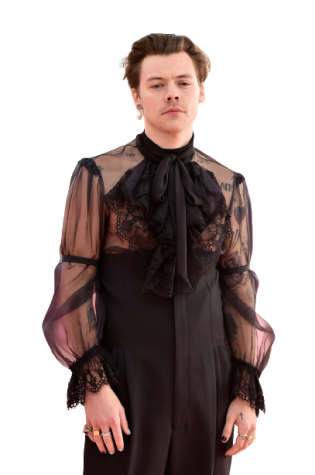 Styles' first acting experience was his role as Alex, a private in the British military, in Christopher Nolan's WWII film "Dunkirk." While his role wasn't prominent, it got his foot in the door for acting. Styles made an appearance at the end of Marvel's "Eternals," as the character Eros, and most recently has starred in "Don't Worry Darling", which premiered Sept. 23. He will also star in "My Policeman," coming out this fall.
"After many careful hours studying his craft, Styles can—and will—act," Michelle Ruiz, a contributing editor of Vogue wrote.
Styles received much praise after his performance in "Dunkirk." It made many critics rethink their stance on Styles as an actor. While he may in fact be good at acting, his newest roles could take a step in the wrong direction with the drama surrounding him.
His latest movie is "Don't Worry Darling," directed by Olivia Wilde. Styles and Wilde sparked dating rumors in January of 2021 when they were seen holding hands at a wedding. This happened just three months after Wilde called off her engagement of eight years to Jason Sudeikis. It has been speculated that this is a possible reason that Styles replaced Shia Lebeouf for the role of Jack Chambers in her movie.
It doesn't sound great if the way Styles comes by his roles is by favoritism. He's a good performer through his own merit and achievement. Being caught up in rumors won't help him go forward in a new field that's already not in his favor.
It's not uncommon to see singers taking on a new role in the entertainment industry. Selena Gomez, Nick Jonas and Rihanna have all been on TV. However, students at Madison seem divided on the matter of Styles being an actor. Many think that because he is a successful singer there is no need for him to be doing acting.
"I think a lot of singers try to do the actor thing and it doesn't work out,"  Sasha Humen ('24), said.
When musical artists decide to start acting, they don't have as much success as they do singing. Since they are known for their specific persona, it is difficult for them to appear in another way. In Harry Styles' case, people are more likely to see him as Harry Styles, not as his character, making it harder for him to transition into acting.
Styles' success comes from his albums and his fans come for his music. His singing will continue to grow adding to his previous achievement. Deciding to act takes away from his career in the music industry. One major reason Styles has been in movies is because of his name. His acting will only go so far. With all the uncertainty surrounding the actor, it would appear that Harry Styles is more of a product of favoritism and celebrity culture than talent.