"Breaking Bad" universe conclusion pleases fans
After 14 years of Walter White's world expanding through shows and movies, the "Breaking Bad" universe ended  this year, along with Saul Goodman.
When "Breaking Bad" was first released in 2008, the show was far from popular. But after its third season, it started gaining a following that has been growing ever since. In 2013, after the fifth and final season of the show was released, it entered the Guinness World Records for the most critically acclaimed show of all time.
The show ended with its main character, Walter White, completing the gritty journey he started back in the pilot episode. He succumbs to his inevitable death (though, he ironically didn't die from the lung cancer that caused his transition from "Mr. Chips to Scarface" as the director, Vince Gilligan, likes to put it) and the other main character, Jesse Pinkman, finally escapes his captors with a hopeful end. The show's finale is a common topic of appraisal in the "Breaking Bad" fanbase, rated as the second best episode in the entire series and one of the best series finales in media.
The same year the show ended, Gilligan announced his next project, "Better Call Saul," a "Breaking Bad" spin-off centering around Walter White's sleazy lawyer, Saul Goodman. It showed his dark, yet flamboyant transition from Jimmy McGill to Saul Goodman, and even a glimpse of his post "Breaking Bad," alias Gene Takovic. Jimmy first changed his name to Saul for a more marketable lawyer title. He then changed it to Gene Takovich as a new identity after Saul became the DEA's (Drug Enforcement Administration) most wanted lawyer. Fans eagerly waited for two years until the first episode was released, and it did not disappoint. The first episode of "Better Call Saul," "Uno," is ranked by Rotten Tomatoes as the fourth best episode of the show, with a 100% rating. As the show went on, fans slowly started recognizing more of Saul in Jimmy, causing them to become increasingly excited for its finale. Because "Breaking Bad" had such a perfect ending, the stakes were high for the "Better Call Saul" finale. Yet there was one character who's ending was still left up to interpretation.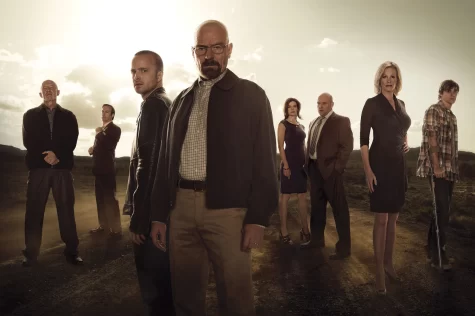 Fans could argue and speculate over what happened to Jesse Pinkman. Even Gilligan said in an interview back in 2013 that while he wanted the character to have a happy ending, it was simply more realistic that he was arrested a couple months after "Breaking Bad." Then in 2019, almost six years after "Breaking Bad" ended, Gilligan partnered with Netflix to produce "El Camino: A Breaking Bad Movie." This movie finally answered the fans' questions and showed Pinkman going through one last heist full of risks and flashbacks, as he eventually succeeds in changing his identity and escaping to Alaska. Once again, Gilligan had given his characters not only the ending that the fans found perfect, but an ending the character deserved, and it wouldn't be the last time.
Along with the universe as a whole, "Better Call Saul" ended on Apr. 18, 2022. Though Saul Goodman disguised himself as Gene Takovich to escape, Gene kept Saul's greed. Gene was arrested after committing multiple robberies, but he cheats the law system yet again and fabricates a once in a lifetime deal with his sentence. But after thinking about his past including his late brother, Chuck McGill, and his ex-girlfriend, Kim Wexler, he chooses Jimmy over Saul and takes his original life sentence. As the episode title ("Saul Gone") had suggested, Saul Goodman was gone and Jimmy McGill returned. This finale hurt to watch for fans of the universe, but yet again, Gilligan created the perfect ending. Gilligan announced in an interview that his next project will not be in Walter White's universe (although, it will be starring Kim Wexler's actress, Rhea Seehorn), and while he may return to Walt's world in years to come, it won't be anytime soon. "Better Call Saul" has been nominated for 46 Emmys over its six seasons, and it's safe to say the fanbase isn't going anywhere.
In a survey conducted by The Hawk Talk, Madison students choose their favorite "Breaking Bad" project. "Breaking Bad" won with 56 votes, then "Better Call Saul" with 17, and lastly, "El Camino" with five.
"The 'Breaking Bad' ending was perfect," Nirav Ramchandani ('24) said "I have not finished 'Better Call Saul' yet, but I hope it tops the ending of "'Breaking Bad.'"
Even after over a decade, people are still watching, rewatching and talking about "Breaking Bad" (it's still one of Netflix's most frequently watched shows), and we can expect the same for "Better Call Saul."