Varsity football heads to states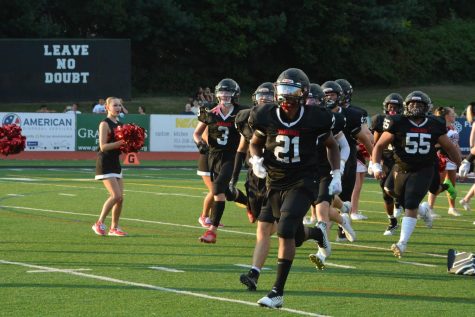 The Madison Football community is undeniably a crucial part of school comradery and a focal point of Madison athletics. Headed by coach Justin Counts, the Warhawks have proved themselves this year by turning around what could have been a tough season. Following a season which went all the way to the state championship in Richmond, Warhawk fans were confident in the talent and ability of this year's team. Senior Kevin Chadwick ('22) described what it meant to them to come back after the state championship game loss. 
"Coming inches away from a football state championship, we entered this season with a different goal in mind: lead our team to another state championship and then win it all," Chadwick said. "After our seniors left last year, our class was looked at as lucky, that last year's success was a fluke. We were given the tools to be a great team, we just have to use them."
When practices started up again in August, there was no question that this team felt there was unfinished business. Expectations are always high at Madison, but following such a dominant state-run, a prominent spotlight was put on these student-athletes. Despite the anticipation, the Warhawks did not get the start they had hoped for. The first game of the season was a highly emotional loss to Stonebridge. The two weeks also proved difficult. With back-to-back losses against Lake Braddock and Yorktown, morale was low. 
After a much-needed bye week, Madison was refueled for their first home game back since August. A roaring student section covered in red created an unmatched energy on the sidelines, which resulted in the landslide victory over the Langley Saxons 28-3. Powered by newfound determination and grit, a strengthening team bond began to show. The win against Langley got the ball rolling for Madison. They went on to win their next six games earning a 7-3 regular season record. 
Moving into the postseason, it was obvious that they wanted to continue their winning streak. 
"The keys are treating every week as if it were your last. If we go into every game as if tomorrow isn't promised, we'll be locked in," Marcus Young ('22) said, " We are hoping to make a long playoff run, leaving our own mark on Madison history."
They strolled through the first few games, dominating their early opponents. 
First, they cut Washington and Liberty loose; the offense presented itself as a dominating front putting up 56 points. The Warhawks then got their redemption by knocking out the Yorktown Patriots. A dominating run game in the first half allowed the defense to make key plays in the second. Next, they went on to win their second matchup against Chantilly. All these wins continued to symbolize the strength and unity that this team proved to have. 
Their final match before once again reaching states, was against the undefeated Fairfax Lions. Posing as a significant threat to their championship dreams, Madison turned on the jets and created an early impact in the first half. Combining a confident pass game and an explosive defense gave the Warhawks the upper hand. Upon their second half return, the offensive marched the ball down the field twice more, and the defensive continued to create opportunities for themselves. With a closing score of 31-21, it was official- Madison was states-bound! 
What began as a season filled with nothing but shortcomings, sure did prove to be a memorable season for the James Madison football team. No doubt with the support of student leadership, and the guidance of their coaches, a team stronger than they've ever been had emerged. It is safe to say that everyone on the field will feel a sense of red and black pride. This team has left its mark on Madison history, state championship or not.