Coco's Sodas + Sweets opens in Vienna
Coco's Sodas + Sweets, a restaurant that serves a variety of sodas and other drinks, is the newest addition to the Vienna community. The store had its grand opening on Oct. 28 and has since then become Madison students' latest obsession.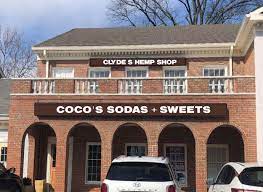 Coco's is inspired by the  soda shops that owners Ben Cichelli and his wife Heather Cichelli grew up with in Utah, and their love for soda was reignited when they moved back west for a year during the pandemic. They started to look for shop spaces in Arlington in early 2020, but eventually decided to open the business in Vienna after quarantine. They chose their current location between Maple and Nutley due to the heavy foot traffic and its proximity to Madison. Although they originally planned to open for Memorial Day weekend earlier this year,  it was delayed a few months due to difficulties with permits and the town of Vienna.
The shop has a multitude of drink flavors and sizes, with many of the drinks being inspired by those of which the owners fell in love with out west and others being original. The drinks are made with a combination of soda, syrups, cream and fruit puree. Some of the shop's most popular flavors are Trestles (Dr. Pepper, Raspberry Puree, Coconut Syrup, Coconut Creamer) and Cyclops (Root Beer, Butterscotch Syrup, Vanilla Creamer) with the most popular size being medium. With the drink prices ranging from $3 to $4 per soda, they are significantly cheaper than many of the other drink shops in Vienna.
"I like Coco's and the drinks are really good," Matthew Hegedus ('24) said. "but I wish there was something to regulate the sweetness level. I think that they could make calories on stuff more apparent and offer diet and zero sugar options."