Chess grandmaster accused of cheating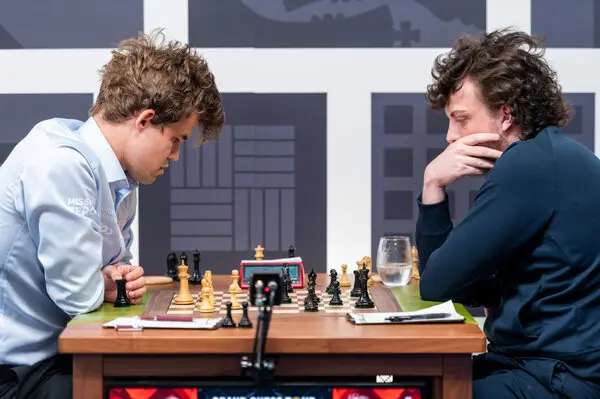 It's not common for the game of chess to make it into national news because of the respect and simplistic nature of the game, but two Grandmasters have found themselves in a position worthy of worldwide coverage. Hans Niemann, a 19-year-old from San Francisco and Magnus Carlson, a 31-year-old Norwegian, squared off at the Sinquefield Cup in September of 2022 three weeks after an online match up. Carlson, being the reigning world champion since 2013, came in as the favorite against the unproven and inexperienced Niemann. Niemann, playing as black, was relentless throughout the game, capturing all but Carlson's bishop and king. Accepting defeat, Carlson extended his hand across the board and the two shook hands, signaling the win for Niemann.
The chess community was shocked, and some even suspected foul play on the part of Niemann after his in-person matchup. Niemann's post-game interview and breakdown raised suspicion as he told a reporter, "[t]he chess speaks for itself" after his online match up against Carlson. During the breakdown of his in-person match, Niemann seemed unable to explain some of his moves, just repeating that the position called for his move and even mentioning that he went over the same position on his analysis computer that very morning. The morning after their game, Carlson resigned from the prestigious tournament and posted a cryptic tweet that implied something wasn't right. On the day of Carlson's withdrawal, security at the tournament suspiciously increased when the stream that viewers were watching on was delayed by 15 minutes which officially put Niemann on watch.
Due to Carlson's allegations and unexpected loss, the internet got crazy with conspiracy theories, with the wildest being the use of vibrating technology in Niemann's body used to communicate the right moves from an outside accomplice. On Sept 7, Niemann had a 30-minute interview addressing the allegations. He stated regarding online and over the board cheating, "I have never cheated over the board… It's true I have cheated twice in my life in online chess when I was 12 years old and again when I was 16 looking to rapidly increase my rating to play stronger players, but this was never for prize money and remains the biggest regret of my chess career." About 2 weeks after the two squared off at the Sinquefield Cup, they matched up in another tournament over the computer. Carlson made only one move and proceeded to turn off his camera and resign in a stunning move to all. Carlson then released a statement explicitly accusing Niemann of cheating stating, "I hope that the truth on this matter comes out, whatever it may be." In wake of Carlson's withdrawal from the tournament Chess.com, the biggest chess website in the world, banned Niemann and made a statement that Niemann had cheated in over 100 online games, including ones with prize money.
Niemann struck back by filing a lawsuit against Carlson, Chess.com, and Hikaru Nakamura, another competitive chess player that had accused Niemann of cheating while on a livestream. Niemann demanded $100 million in defamation damages from the accusations of cheating. Chess.com released a statement that the company wants to set the story straight and get to the bottom of the situation for all the honest chess players. Carlson, when asked about the situation, replied that his focus was chess. The lawsuit is still ongoing and suspected to take many months or possibly years to be resolved. Both Niemann and Carlson are remaining active through this scandal.