Star studded movies set to premiere in 2023
Nostalgia, action, and discovery are three words that will characterize Hollywood in 2023. This year, childhood favorite dolls, the end of a beloved space trilogy, and the true story of the world's most destructive bomb will hit the silver screen.
"I'm super excited about all the new movies coming in 2023," said Charlotte Dixon ('24). "Recent movies have been very star studded."
"Barbie," directed by Little Women's Greta Gerwig, will be released on July 21, 2023. The movie follows Margot Robbie, starring as the title character, as she seeks refuge in the real world after being expelled from Barbieland for her imperfections. Given the doll's tumultuous history of unrealistic body standards and anti feminist accusations, an imperfect Barbie might be refreshing for moviegoers. However, the movie already piqued controversy over casting 42-year-old Ryan Gosling for the part of Barbie's cool, young boyfriend, Ken. Many think there are younger, more Ken-like Hollywood men fit for the role, but time will tell if Gosling lives up to his fictional Mattel counterpart.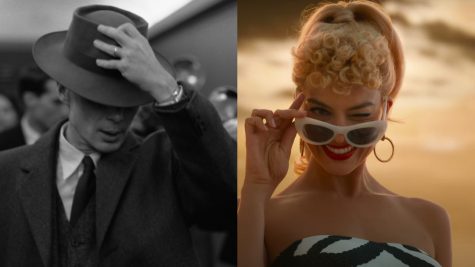 However, some students are not concerned about Gosling's role in the film. Sean Lyons ('24) says that he is "so excited for Barbie" because "Ryan Gosling is literally [his] hero."
"Oppenhemier" hits theaters on the same day as Barbie. This Christopher Nolan biopic features big names such as Robert Downey Jr, Florence Pugh, Emily Blunt, Matt Damon and Rami Malek. The story follows scientist Cillian Murphy as he leads the Manhattan Project in its discovery of the atomic bomb during World War II.
"Oppenhemier" is already a trailblazer in the movie technology scene, as up to now, it is the only film to be shot in black and white IMAX. The technology is supposedly a pivotal part of the Oppenhemier experience.
"The fact Christopher Nolan managed to visually recreate the nuclear explosion in World War II without CGI is absolutely insane," teen film critic, Jude Adler ('24) said. "Given Nolan's history, 'Oppenheimer' should be fantastic. I just worry the loaded cast could hog the spotlight from the story and hurt it overall."
On May 5, the long-awaited "Guardians of the Galaxy Volume III" releases. The Guardians, a ragtag group of space adventurers, led by Chris Pratt's Peter Quill, will face off against villain and Guardian hater, Adam Warlock, played by Will Poulter. Beloved characters Drax, Mantis, Groot, and Nebula will return as well. The origin story of Rocket Racoon, voiced by Bradley Cooper, will also be featured. Finally, the audience will meet an alternate timeline Gamora, whose real self died in "Avengers: Infinity War."
The threequel was expected to come out much sooner, but numerous delays set back its release. Nonetheless, fans are excited to watch what director James Gunn calls a proper send off for him, the characters, the cast and the crew.
"As a fan, of course I'm pretty bummed that the 'Guardians of the Galaxy' series is ending, but quality over quantity, you know?" Adler said. "James Gunn knows what he's doing, and I'd rather them end it short and sweet rather than stretch it out and make it dry."