Gov. Youngkin calls for investigation into TJ
Thomas Jefferson High School for Science and Technology (TJHSST) is being investigated by Virginia Attorney General Jason Miyares for withholding National Merit Scholarship honors, affecting many students' ability to include the award on their early deadline college applications. After Virginia Governor Glenn Youngkin called for an investigation, Miyares opened one against the TJ administration on Jan. 4 to determine if "withholding of National Merit Scholarship honors from students violated the Virginia Human Rights Act." "We need to get to the bottom of what appears to be an egregious, deliberate attempt to disadvantage high-performing students at one of the best schools in the country," Youngkin said in a statement.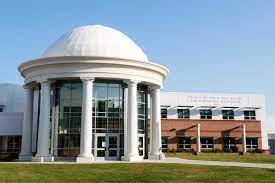 Students were first screened for National Merit Scholarship awards by the PSAT/NMSQT, usually administered in junior year of high school. Of the 1.5 million students who took the test nationwide, roughly 50,000 of them scored high enough to be recognized for a National Merit Scholarship honor. Two thirds of the students (34,000 students) received the status of "commended student" while the other 16,000 were named "semifinalists" and could choose to compete for other National Merit Scholarship awards. Semifinalists were notified of their status earlier in the semester, and their names were published by FCPS in September. However, students at TJ were not notified of their "commended student" status until Nov. 14.
The problem at TJ was brought to light by concerned parent Shawnna Yashar when she received a late notification in mid-November that her son had been awarded a letter of commendation by the National Merit Scholarship Corporation (NMSC). Several parents are now calling for high ranking staff at TJ to be fired, such as their principal Ann Bonitatibus and Director of Student Services Brandon Kosatka.
Some believe that the information was withheld as a racially motivated attack to disadvantage the student body at TJ, most of whom are students of color.
"Students at Thomas Jefferson High School for Science and Technology are amongst the brightest in the nation, yet some have been punished in the name of 'equity,'" Miyares said in a statement. "Racism and race-based government decision making in any form is wrong and unlawful under Virginia's Human Rights Act."
Fairfax County Public Schools (FCPS) has maintained that the scholarship delay is a "one-time human error" and not because TJ officials deliberately withheld information from students. In addition, TJ school counselors have worked to remedy the situation by communicating with colleges where affected students applied to inform them of the students' commendations.
"FCPS stands ready to work with our partners at the state level on both areas of investigation," FCPS Superintendent Michelle Reid said in an email sent out to the FCPS community. "I have already communicated this to the Office of the Attorney General for the Commonwealth of Virginia. We understand and value the hard work and dedication of each and every student, and the families and staff who support them. Please be assured that we remain resolutely committed to supporting every student in reaching their unique and fullest potential."