NOVA movie theaters ranked
"Dinner and a movie" is a term used by many to suggest a great way to spend an evening. Whether it be friends or family, movies have always been a popular choice to spend time together. There are many quality theaters throughout Vienna and the surrounding areas, yet some provide for higher ranking experiences than others.
Coming in at the top is the Tysons Showplace and Kitchen at the Boro. A parking garage and public lot make parking very available for movie goers. The theaters themselves are quite enjoyable, with clean floors and chairs. The center of the luxury experience is not just the detailed surround sounds and visuals, but also the heated or cooled recliner chairs provided at each seating placement.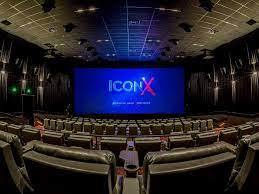 The only negatives of the Showplace lie in their ticket scanning machines. All Showplace tickets are bought online so they must be scanned for a visitor to enter. The machines work inconsistently, and if one cannot get their ticket scanned no attendant is visible to assist. The help center is also usually void of people. Usually the only visible people working at the Showplace are the ones who work in the kitchen area.
In second place is the Angelika Film Center. For those looking for a retro experience, Angelika is the way to go. It creates an interesting contrast for new visitors because of the surrounding modern-city feel that Mosaic characterizes itself with. For those not expecting a blast from the past, Angelika film center can be slightly shocking at first but eventually very enjoyable.
The only real negatives of the Angelika Film Center are primarily personal preference. For those looking for a different experience, the Film Center is great. For those expecting a more modern feel with recliner chairs and other accessibilities the Film Center might not be as enjoyable.
Lastly in third place is AMC at Tysons Corner Center. Due to the location, good or bad parking is relative to the day and time. However, there is almost always parking available for movie-goers. Upon entrance an attendant checks or scans your ticket depending on if it is virtual or physical. Snack lines can be long depending on the time of day and day of the week, but if you provide a time cushion there is no issue. The crown of AMC has always been and will continue to be their incredible surround sound and visuals.
The negatives of attending AMC theaters are the inflated prices of tickets compared to other close-by theaters.
"AMC theaters were really popular when we were younger, but the process of buying AMC tickets has become more complicated and with streaming it's not worth it to deal with the issues," Maya Beam ('24) said.
There is also a higher chance of dirty floors or a stained seat. AMC tends to be more crowded due to its location within the Tyson's Corner Center mall. Some may enjoy the full theaters due to a more excitable energy for a newly released movie; however AMC Tysons Corner is not the place to go when looking for a relaxing evening.