4 easy recipes to try while at home during the pandemic
During this long and tedious quarantine, I have found myself often thinking about what I should do to pass the time instead of sitting in bed bingeing a new Netflix series or watching TikTok for hours. Baking presents a therapeutic outlet that allows me to stay busy and creative while also taking my mind off of school. Now is a perfect time to explore and expand your baking repertoire and impress your family. Making sweet and savory treats will always earn you some extra appreciation with your family and will hopefully get your parents off your back for being unproductive. Here are some of my favorite delicious and easy recipes that I have tried out during these past few weeks of quarantine. Click for a link to each recipe!  Pumpkin bread
This pumpkin bread recipe is great if you are searching for a little taste of autumn. When I was baking this, my whole house smelled of the sweet cinnamon and pumpkin scent that I associate with the fall season. The pumpkin bread is great for a quick breakfast if you are too tired or busy to make yourself something. All you have to do is make it at the beginning of the week, and you are all set to slice yourself a piece any lazy morning. This recipe can also serve as a great dish for dessert, especially with the addition of some chocolate chips. 
2. Sugar Cookie M&M's Bars (or Chocolate chip bars)
My mom whipped up these chocolate chip cookie bars the other day, and I could not believe how delicious they were when she said that they came from a mix. Even though they were made with a sugar cookie mix, they taste just like chocolate chip cookies, only much more thick and moist. She did not use the M&M's as the recipe directed, as she used the chocolate chips we had in the house, but any fun chocolate candy can serve as the perfect mix-in for this recipe. If you want to spice them up even more, try adding three-fourths of a teaspoon of ground cinnamon for the perfect flavor.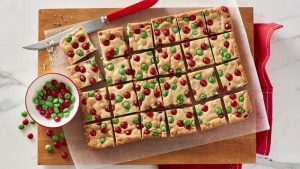 If you are tired of drinking the same coffee every morning and want to spice it up, the TikTok-famous Dalgona coffee is perfect to try out. This whipped coffee drink is something more fancy that you could find at a local coffee shop. This coffee is iced and comes out fluffier than regular coffee. Once you mix the two layers together, the drink almost tastes like a Frappuccino from Starbucks. You can make it your own by adding a chocolate or caramel drizzle if you really want to imagine you are a barista. This recipe requires few ingredients and is definitely worth taking out your hand-held mixer.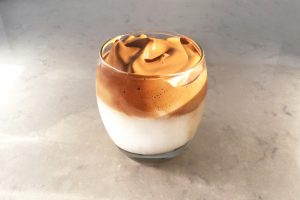 4. No-bake vegan gluten-free turtle bars
Looking for a healthier dessert option? These no-bake turtle brownies are vegan and gluten-free. One of my friends delivered some to my house the other day, and I could not believe how chewy and delicious they tasted, even though they were made with all-natural ingredients. Even if you are not vegan, like me, these brownies make for a fun and scrumptious food experiment.