Hawk Talk Staff Holiday Recipes
In addition to our journalistic skills, the Hawk Talk staff also has some serious talent when it comes to baking. We're excited to share with you a few of our favorite holiday recipes below.
Christina Luckett's Cowboy Cookies
My family and I usually make these cookies around the holidays to send to our relatives and friends. This recipe is very similar to my grandmother's, and these puffy, hearty cookies are chock-full of nuts, chocolate chips, shredded coconut and oats.  They are definitely one of my favorite baked goods, and I hope you enjoy them, too! 
Ingredients
-1 cup salted butter
-½ cup granulated sugar
-½ cup brown sugar
-2 ¾ cups all-purpose flour
-1 teaspoon baking powder
-1 teaspoon baking soda
-1 teaspoon salt
-3 eggs
-1 teaspoon vanilla extract
-2 cups semi-sweet chocolate chips
-1 ½ cups quick oats
-½ cup dried shredded coconut
-½ cup chopped mixed nuts
Directions
Preheat oven to 400°F. 

Add softened butter, granulated sugar and brown sugar to a bowl and mix until smooth.

Add in the eggs and vanilla extract and mix until combined.

Add in the all-purpose flour, baking powder, baking soda, salt and quick oats and mix until combined.

Use a rubber spatula to fold in the chocolate chips, shredded coconut and mixed nuts.

Divide the dough equally into about 12 pieces and form each piece into a ball.

Place on a baking sheet lined with parchment paper and bake until the edges have started to brown, about 10-12 minutes.

Let cookies cool on the sheet before serving.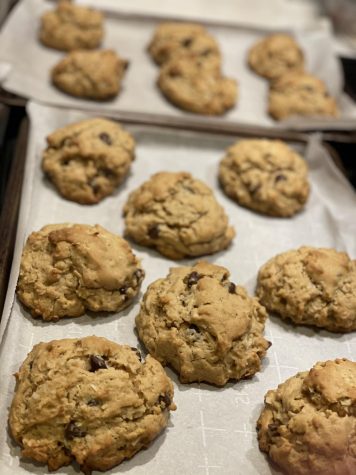 ________________________________________________________________________________
Jillian Geib's Caramel Apple Cinnamon Loaf
While this delicious quickbread recipe may lack "traditional" holiday flavors, such as peppermint or gingerbread, it makes for the perfect Christmas morning breakfast.
Ingredients 
-½ cup butter, softened
-½ cup granulated sugar
-½ cup brown sugar
-1 teaspoon vanilla extract
-2 eggs
-1 teaspoon baking soda
-1 ½ cup flour
-1 teaspoon cinnamon
-½ cup unsweetened applesauce
-2 medium granny smith apples, peeled and chopped
-¼ cup caramel ice cream sauce
Topping
-2 tablespoons brown sugar
-1 tablespoon granulated sugar
-1 teaspoon cinnamon
Directions
Preheat the oven to 350°F

Beat together butter and sugars until creamy. Then beat in the eggs and vanilla

Combine the flour and baking soda and slowly beat into butter mixture

Stir in the cinnamon, applesauce, apples, and caramel sauce until combined

Pour the batter into a greased 9×5 loaf pan

In a small bowl, combine the topping ingredients. Then Sprinkle overtop of your batter, making sure to cover the entire loaf

Bake for 50-55 minutes or until a toothpick inserted in the center comes out clean

Allow the loaf to cool in the pan for 10-15 minute. Remove and continue cooling on a wire rack

Slice and enjoy with coffee 🙂
________________________________________________________________________________
Mrs. Arvis's Butterhorn Cookies
My grandmother adapted this recipe from Betty Crocker's "Cooky Book" and started our family's tradition of making them every year around Christmas. The chocolatey, almondy flavor of these butterhorns makes them utterly irresistible, and the confectioner's sugar finish (which looks like a dusting of snow!) makes them the perfect treat for the holiday season.
Ingredients
-2 cups flour
-1 tsp baking powder
-¼ tsp salt
-½ cup butter
-½ package active dry yeast
-2 tbsp warm water
-2 eggs, separated
-¼ cup sour cream
-½ tsp vanilla
-½ cup white sugar
-½ cup crushed walnuts
-½ tsp almond extract
-1 cup semi-sweet chocolate chips
confectioner's sugar (for dusting)
Directions
Measure flour by sifting.

Stir flour, baking powder and salt together in mixing bowl; cut in butter.

In a separate mixing bowl, dissolve yeast in warm water; stir in egg yolks (setting the whites aside), sour cream, and vanilla. Stir into flour mixture. 

After combining the dry ingredients and the wet ingredients, shape the dough into three balls, and refrigerate for at least one hour.

As the dough is refrigerating, preheat the oven to 400 degrees, line a cookie sheet with parchment paper, and prepare the workspace you'll need later on for rolling out the dough (sprinkle (or sift) some flour onto a table, counter, etc. (you may want to tape down some parchment paper).

In another mixing bowl, use an electric mixer to beat the egg whites until they become foamy and stiff like merengue; gradually add the sugar as you continue to beat the mixture.

Fold

the walnuts and almond extract into the egg whites and sugar mixture.

Once the dough has finished refrigerating, shape each ball of dough in your hands (pass it back and forth for a minute or so) in order to get rid of any air pockets and to make it a bit more malleable.

Then, place one ball of dough in the center of the floured workspace you prepared earlier. Before using your rolling pin (heavy, marble rolling pins work best) to spread out the dough, sprinkle some additional flour on top of the dough.

Roll the dough out into a thin even layer, and spread ⅓ of the egg whites mixture on top.

Then, use a pizza wheel/ cutter to cut the rolled out dough into 12 even pieces (like a pizza–see picture!)

Next, sprinkle ⅓ cup of the chocolate chips evenly onto the triangles of dough

Then, roll up each triangle from the wide end down to the point. Place the rolls onto the lined cookie sheet. 

Bake about 10-12 minutes or until the tops of the rolls have started to turn golden brown.

Remove from oven, transfer to a new sheet of parchment paper on a counter/ table, allow to cool. 

Finish the butterhorns by sprinkling confectioner's sugar on top!
*Makes about 3 dozen cookies.