Review: 2000+ calorie Cheesecake Factory meals
Italian Trio: 
Italian food has, for as long as I can remember, been the Williamson family's favorite cuisine. From weekly trips to the very much authentic Carrabba's Italian Grill to outings in Georgetown's il Canale, an amazing pizza place. As a connoisseur of authentic Italian food I felt that it was my duty to review the Cheesecake Factory's 2800 calorie Classic Italian Trio.
This dish at first seemed to be a deal of a lifetime, $19.45 for a 2800 calorie meal and three different parts. It was bound to be a lot of food for an affordable price, but I was sadly mistaken. I'm not the type to consume mass amounts of food in one sitting, but I was excited to try this. I had prepared all day for this meal; I ate a light breakfast and drank lots of water, something I only do when getting ready for a Thanksgiving feast. However after looking over reviews on Yelp, one review from Hannah H stating, "The Cheesecake Factory can be a hit-or-miss especially with their food items." I began to become skeptical whether or not this meal was going to be worth the total $30 delivery.
The following were my immediate thoughts after eating what I had hoped to be a delicious lunch. The Classic Italian Trio from Cheesecake Factory is probably the most unhealthy and disgusting meal I've had in my life. Personally, I've eaten some nasty things, from duck tongues fried in pickle juice, to literal worms, but nothing compares to this meal. The pure malnutriat value of this meal wasn't enough for the creator of this dish, but they also decided to make one of the most expensive, revolting dishes of all time.
To give Cheesecake Factory some credit, it was an online order but it still tasted like what you would expect to find in the dumpster outside Pazzo Pomodoro. Then again, that would still taste better. The Classic Italian Trio consisted of two pieces of chicken, a cheese and rigatoni pasta and fettuccine alfredo. The cheese from the rigatoni tasted like it had been set out for hours and it's smell was intoxicating, in a bad way. The chicken tasted dry and had been soaked in something rancid before they breaded it, because the moment I had bit into it, I rushed to find water to wash down the disgusting taste.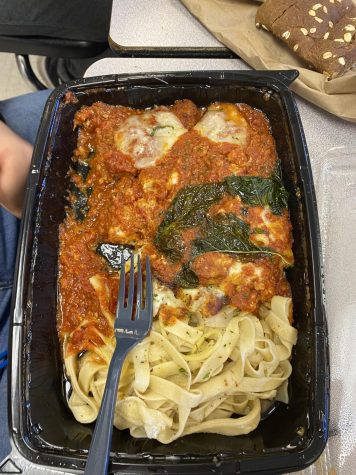 Fettuccine Alfredo: 
Coming in at a whopping 2,210 calories, the Fettuccine Alfredo with Chicken from Cheesecake Factory contains a little more than your recommended daily calorie intake of 2,000 calories. For $23.50, you can get enough calories for three meals, which is a steal, right?
Well, let's just put the calorie count to the side for now. From the overly thick noodles topped with sauce that was too thick, the pasta was hard to get down. There were barely any seasonings I could taste, so eating mouthfuls of cream and dough was horrendous. The measly, unseasoned pieces of chicken didn't add much but still added a nice break between the overly creamy pasta. If you would rather skip over the bland pieces of chicken, get the Fettuccine Alfredo without chicken for $18.50 and save your $4.
The original challenge was to eat the whole dish and see what eating a whole day's worth of calories in one sitting was like, but
the real challenge became eating more than half of the pasta. Even though I didn't finish it, I still felt the effects. My stomach was uncomfortable about an hour after I stopped eating, like I had eaten too much at a buffet trying to get my money's worth, and I didn't feel normal until a couple of hours later. The only thing I ate that day was the pasta, and I wasn't hungry until late the next day.
Honestly, I consumed about half of the pasta, meaning that I spent $11.75 for a whole day's worth of food. $11.75 divided by three (for three daily meals) makes each meal out to be about $4, which is an absolute bargain. I wouldn't have a problem with the 2,210 calories if the pasta tasted good, but I was let down. I wouldn't recommend eating 2,000 calories in one sitting, rather, enjoy your three (appropriately sized and healthier) meals. If you want Fettuccine Alfredo that actually tastes good, get Olive Garden's Chicken Alfredo for $18 and 1,570 calories or TGI Friday's Chicken Parmesan Pasta for $15.49 and 1,610 calories, much more sensible options.